PELICE 2014
March 20-21, 2014 | Atlanta, Georgia
The Educational Event for the Worldwide Wood Products Industries Including Veneer, Plywood, OSB, MDF, Particleboard, Engineered Wood Products, Mass Timber and Value Added
REGISTRATION
EXHIBITORS LIST
EXHIBITORS/ATTENDEES BREAKFAST
7:15-8:15 a.m.
MORNING KEYNOTERS SESSION
(Rooms B-C)
8:20-8:25 a.m.
Welcoming Remarks and Keynoters Introduction
Rich Donnell, Conference Co-Chairman, Editor-in-Chief, Panel World
8:30-8:50 a.m.
On the Economic, Political and Business Climate
—Roger Tutterow, Professor of Economics, Mercer University
8:55-9:15 a.m.
How 300 Men Shared a Dream: And How I Manage the Company They Turned into a World-Class Plywood Mill Richply
—Joe Andrews, General Manager, Richmond Plywood
9:20-9:40 a.m.
Transitioning into a New Era of Composite Products
—Kelly Shotbolt, President, Flakeboard Company Ltd.
9:45-10:05 a.m.
The Future of Southeast Wood Supplies: The Good, the Bad and the Ugly
—Dean McCraw, Principal-Timber Supply Specialist, McCraw Energy
TIME OUT WITH ATTENDEES
10:10-10:40 a.m.
CONCURRENT SESSIONS
(Rooms A-B-C)
ADHESIVES & RESEARCH
(ROOM A)
10:45-11:05 a.m.
2014 Update: Impact of U.S. Green Building Standards on Wood Adhesives
—Ashlee Cribb, Business Manager, Georgia-Pacific Wood Adhesives
—William Hull, Marketing Manager, Georgia-Pacific Wood Adhesives
11:10-11:30 a.m.
Quantifying the Natural Variation of Formaldehyde (HCHO) Emissions for Wood Composite Panels
—Jeffrey Otjen, Product Manager, Georgia-Pacific Wood Adhesives
—Nicolas Andre, Research Scientist, Center for Renewable Carbon, University of Tennessee
—Timothy Young, Professor, Forest Products Center, University of Tennessee
11:35-11:55 a.m
A Mechanism for Fundamental Research
—Linda Caudill, Managing Director, Wood-Based Composites Center
TECHNOLOGY IMPROVEMENTS
(ROOM B)
10:45-11:05 a.m.
Capitalizing On New Veneer Drying Technologies
—Alan Knokey, Vice President, USNR
11:10-11:30 a.m.
Dryers: Efficiency/Productivity/ Quality: Green Veneer In – Good Veneer Out
—Trevor Wendt, Sales and Marketing Manager, Westmill Industries
11:35 a.m.-11:55 a.m.
Technology Migration: A Case Study in Maximizing the Value of Updating Control System Hardware and Infrastructure
—Dustin Neumann, Principal, Neumann Process Control
BOARD ENHANCEMENTS
(ROOM C)
10:45-11:05 a.m.
Quality Assurance Systems in the Engineered Wood Industry
—Marshall Lloyd, Sales Engineer, GreCon
11:10-11:30 a.m.
Production Optimization Using Automatic Scanner and Panel Repair Technology
—Tor Gustavsen, Managing Director, Argos Solutions
11:35-11:55 a.m.
In-Line Inspection Makes Furniture Board Producers Happy and Wise
—Thomas Franz, Managing Director, Baumer Inspection
LUNCH AND EXHIBITS
12:10-1:30 p.m.
AFTERNOON KEYNOTERS SESSION
(ROOMS B-C)
1:35-1:55 p.m.
Remarks and Presentations
—Fred Kurpiel, Conference Co-Chairman
2:00-2:20 p.m.
Regulatory Challenges for the Composite Panel Industry: How and When Will the New Emissions Rules End?
—Tom Julia, President, Composite Panel Assn.
2:25-2:45 p.m.
The Future of Engineered Wood Products: LP's View of the Next Generation of EWP.
—Brian Luoma, Senior VP and General Manager, Engineered Wood Products, LP Building Products
2:50-3:10 p.m.
Developments in U.S. Trade: Opportunities and Challenges
—Alberto Goetzl, International Trade Analyst, U.S. International Trade Commission
TIME OUT WITH EXHIBITORS
3:15-3:40 p.m.
MANUFACTURING ENHANCEMENTS
(ROOM A)
3:45-4:05 p.m.
Getting More: New Manufacturing Developments
—Andrew Jowett, President, Imal, Inc.
4:10-4:30 p.m.
Win Your Race at the Pit Stop: Ziplink Belts
—Richard Duijn, Industry Segment Manager, Ammeraal Beltech
4:35-4:55 p.m.
More Than 100 Years of Steel Belt Know How
—Joerg Kaufmann, Global Project Manger for Press Belts, Sandvik Process Systems
METHODS & IMPROVEMENT
(ROOM B)
3:45-4:05 p.m.
Continuous Improvement: What Our Industry Should Be Thinking About
—Colin Folco, Modernization Manager, Dieffenbacher
4:10-4:30 p.m.
Laminated Beech Veneer Lumber Production on ContiRoll Press
—Joachim Meier, Executive Vice President, Siempelkamp LP
4:35-4:55 p.m.
The Newest Plywood Pressing Technology
—Anna McCann, Taihei Machinery
AIR EMISSIONS
(ROOM C)
3:45-4:05 p.m.
Eliminate High Fuel RTO Operating Costs
—Rodney Pennington, VP of Key Accounts, Nestec
4:10-4:30 p.m.
Bio-Incineration – Destruction of Contaminants at Ambient Temperature
—Rakesh Govind, President, PRD Tech
4:35-4:55 p.m.
Upgrading and Improving Existing Wet ESP's and RTO Equipment
—Jaymie Deemer, Market Development Manager, Lundberg
BREAKFAST WITH EXHIBITORS
7:15-8:15 a.m.
MORNING KEYNOTERS SESSION
(ROOMS B-C)
8:20-8:25 a.m.
Remarks and Introductions
—Dan Shell, Managing Editor, Panel World magazine
8:30-8:55 a.m.
Creating a High Performance Operation: Reflections on Leadership and Change
—Dick Baldwin, Managing Partner, Oak Creek Investment
9:00-9:25 a.m.
How Successful Plywood Companies Are Running Their Operations in Latin America
—Tapani Kiiski, President and CEO, Raute
9:30-9:55 a.m.
The Uneven Recovery in U.S. Housing Brings Cautious Optimism to North American Wood Panel Markets
—David Fortin, Senior Economist, Wood Products, RISI
TIME OUT WITH ATTENDEES
10:00-10:30 a.m.
THE DUST FACTOR
(ROOM A)
10:35-10:55 a.m.
Continuous Process Improvement: The FPI Now Cautions Green Sawdust Combustible
—Justin Price, Principal, Evergreen Engineering
11:00-11:20 a.m.
Lessons in Crisis Response and Risk Mitigation
—Cam McAlpine, President, PR Media Strategic Communications
AIR EMISSIONS
11:30-11:50 a.m.
Base Metal Catalyst in Board Industry Regenerative Oxidizers: Experience and New Developments
—Yurii Matros, President Matros Technologies
—Grigorii Bunimovich, Catalyst Applications Director, Matros Technologies
11:55-12:15 p.m.
WESP As an Add-On Particulate Matter Control Technology for Industrial Boilers
—Hardik Shah, Senior Applications Engineer, Southern Environmental
ADHESIVES TECHNOLOGIES
(ROOM B)
10:35-10:55 a.m.
Enabling Technologies for Sustainable Composite Wood Products
—Todd Miler, Technical Manager, Momentive Specialty Chemicals
11:00-11:20 a.m.
New Developments in Polyurethane Adhesives
—Chris Whelan, Business Development Manager, Henkel-Purbond
11:25-11:45 a.m.
Polyurethane Adhesives for Panel Product Applications
—Xiaobo Gong, Senior Team Leader, Ashland Performance Materials
OPERATIONAL BENEFITS
(ROOM C)
10:35-10:55 a.m.
Capital Costs Versus Operational Costs: The Common Sense Approach
—Jason McIntosh, Business Development Director, Hunt, Guillot and Associates
11:00-11:20 a.m.
Taking the Mystery out of Maintenance: A Metrics Approach to Maintenance Management
—Robert Landau, Director of Operations, Pöyry Management Consulting
11:25-11:45 a.m.
Transitioning Your Plant Operation from Good to Great through Improving Operator Effectiveness
—Bijan Shams, President, Cogent Industrial Technologies
11:50-12:10 p.m.
Trash or Treasure? Maximize Your Surplus Recovery in Equipment, Spare Parts and Rolling Stock
—Doug Moore, Principal, EuroSource LLC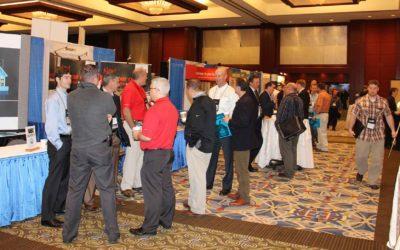 ATLANTA, Ga. A record attendance participated in the fourth Panel & Engineered Lumber International Conference & Expo (PELICE) held March 20-21 at the Omni Hotel at CNN Center in Atlanta, Georgia. An all-star lineup of conference speakers and technology...
March 14-15, 2024 | Atlanta, Georgia
PELICE is the Educational Event for the Worldwide Wood Products Industries Including Veneer, Plywood, OSB, MDF, Particleboard, Engineered Wood Products, Mass Timber and Value Added