PART TWO: This article provides quick recaps of some of the presentations from the Panel & Engineered Lumber International Conference & Expo (PELICE) held March 31 to April 1 at the Omni Hotel at CNN Center in Atlanta, and hosted by Panel World magazine. Owners, executives, plant managers, project managers, engineers, human resource and other personnel from wood products producer companies took in these presentations while also combing the aisles of the Grand Ballroom North where 100 exhibitors set up shop. The May issue of Panel World included summaries from the presentations of eight keynote speakers. The September issue will include Part Three and wrap up PELICE coverage.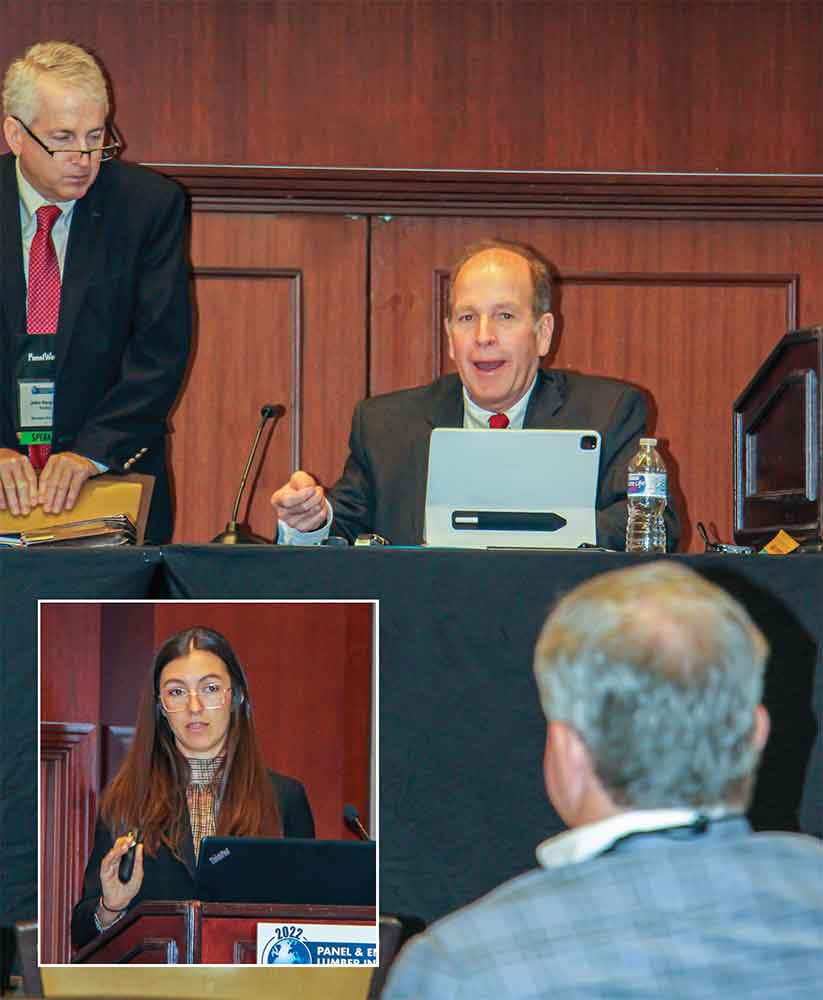 Upon the encouragement of several producers, PELICE featured a session entitled, "What Is Keeping Your Legal Team Up At Night?" Bradley law firm Partner Charles Stewart (pictured, seated) pieced together and moderated the session, which featured three speakers from Bradley who, respectively, delivered presentations on drug testing laws, wood dust standards, and exterior wall sheathing options and codes.
Associate Sarahanne Vaughan (inset) spoke on drug testing from the perspective of employer interest—maintaining a workplace free of illegal drugs; employee interest—potential invasion of privacy; and common interests—a safe workplace.
She addressed the impact of the Americans with Disabilities Act on employee drug testing and noted that testing for illegal drugs (under the Controlled Substance Act) does not violate ADA since illegal drugs users are not necessarily considered disabled. Employers are required to be consistent in their testing such as testing all applicants in the same job category. However, she noted employers should take precautions with regard to employee drug prescriptions and have an interactive process with the employee.
Post-injury drug testing is appropriate where drugs were the potential cause of an on-the-job accident, though employers should make employees aware of this policy.
Vaughan said there's no comprehensive federal drug testing law, which leaves the door open for state regulations and variations. She cited several common state law restrictions such as limiting testing to reasonable suspicion or probable cause, random testing under certain circumstances, and specific methods for handling specimens and test results.
Though the legal status of marijuana continues to evolve, it continues to be illegal under federal law, and employers in most states, regardless of state marijuana laws, can test for it under their company drug testing policies and treat it as an illegal substance. However, prescription marijuana law continues to develop with regard to employer rights and employee protection.
Summarizing, Vaughan said, employers should research their state drug testing laws, keep ADA in mind, institute drug tests equally among employees, and look into comprehensive model Drug-Free Workplace programs that may help create workable policies.
John Hargrove, Partner with Bradley (pictured above, standing), spoke on wood dust dangers, standards and best practices. He said OSHA may investigate upon worker complaint, an accident or injury, or it could be a scheduled or random call; and OSHA citations and financial penalties have a broad range, and perhaps worst of all puts your company on their radar.
There is a legal process to challenge OSHA rulings, but in the meanwhile remediation measures at your operation can include ventilation, regular cleanup, respirators, personal hygiene, equipment maintenance, inspections, enhanced communications, training and, very importantly, documentation.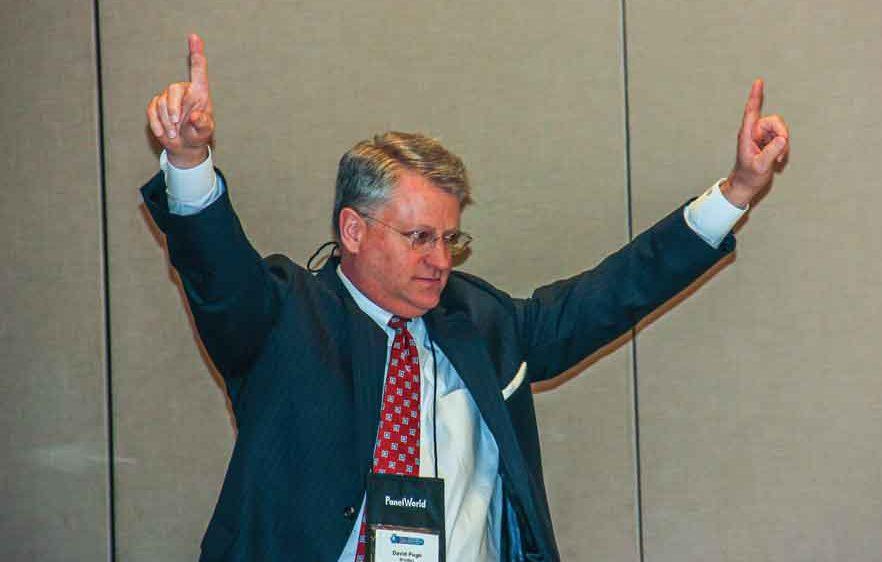 David Pugh, Partner at Bradley, delved into exterior sheathing options, ranging from diagonal tongue & groove, to plywood, OSB, fiberboard and foam board. He touched on performance variables, include nailing/fastening, insulation, structural strength, moisture resistance, thermal sensitivity and cost.
Pugh focused on cellulosic fiberboard, reading the North American Fiberboard Assn. definition of it, including the possible addition of other materials during manufacture to improve certain properties.
All sheathing options come with legal considerations, and one of the most important questions is does the building "code" apply. Then there's contract language, warranty claims, Home Owner Assn. (HOA) requirements and subdivision covenants, and potentially false advertising, deceptive trade practices, and product disparagement.
Prior to PELICE, several panel industry experts had authored an article in Panel World denouncing paperboard wall sheathing with allegations of failures during major storms in Texas, not measuring up to strength properties in laboratory testing, and basically managing to slip through weaknesses in the code evaluation and approval process.
GLOBAL TRENDS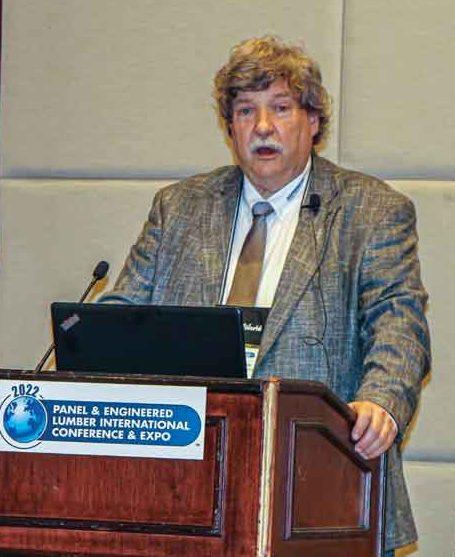 Dieffenbacher's Capital Equipment & Modernization Sales Manager, Cole Martin, and Director Modernization North America, Colin Folco, spoke about the influence of global companies, technologies and markets on North America during a session on Global Technologies & Trends.
They noted several cultural differences that can impact traditional North America operations, ranging from employee compensation to vacation allocations to regulatory requirements to housekeeping. They pointed to an influx of European influence from the likes of Kronospan, Swiss Krono and Egger, as well as Arauco from South America, and they expect a continued influx.
Why are manufacturers coming to America? They mentioned the relative stability of the market, market size and continued growth projections. There's also a growing emphasis on sustainability in North America that emphasizes environment (air management), health and safety, economics and environmentally friendly products, such as the use of recycled wood as a source of fiber.
Products traditionally manufactured abroad are now finding manufacturd in North America, including wood fiber insulation, such as GO Lab's TimberHP product and facility expected to begin production next year in Madison, Wis. The company relocated a Dieffenbacher wood fiber insulation board plant from Germany and Dieffenbacher has continued to provide support and enhancement services.
Raw material developments in the Middle East could come to North America, they said, citing the use of date palm tree waste and the new Al Talah Board DesertBoard production facililty supplied by Dieffenbacher. "Let's make OSB from palm trees!" they stated. "North America does have palm trees."
Developments in China are being watched closely as well, such as fine surface OSB, hardwood flooring from OSB, straw board particleboard, with production generally involving smaller equipment (4 ft. lines) at less cost and with less capacity.
Trevor Wendt, market area vice president of Raute North America, spoke on the company's Rx-Series of technologies, which are geared to match the needs of a production facility.
R3 is based on affordability, lowerlevel production, simplified installation and startup and generally a lower level of automation. R5 is a mid level budget, generally upgradeable, with middle to high production capacity and low to medium automation. And R7 offers maximum production capacity, all encompassing automation and machine vision, fully upgradeable and including data analyzing software for optimization.
For example, Raute's veneer plugging lines, drying lines and panel repairing lines are offered in all three R levels. A production facility can mix and match these technologies along its mill flow.
Wendt noted that Raute continues to invest substantially in research & development, supporting production facilities in Nastola, Finland; Shanghai, China; and Vancouver, Can.; and machine vision development in Kajaani, Finland and Pullman, Wash.
Bijan Sham, president of Cogent Industrial Technologies, addressed the complexity of delivering capital projects, noting that 70% of them fail, while the ones that succeed combined a stellar project execution team and project management team.
He addressed the steps of project execution, always with an eye on the outcome of delivering a safe, reliable and data-driven plant to drive the highest efficiency from assets, people and processes.
He also broke down project management into multiple phases and responsibilities, and kidded, "What could possibly go wrong?" He focused on the big picture phases of project management: initiation, planning, executing, monitoring/controlling the execution and closing. He cited the project filer server and project issue tracker as necessary tools throughout the project.
Circling back, Shams said the main causes of capital project failures are poor project execution and poor project management. Key reasons for execution failure include the wrong technology selection (which can cause headaches for years), neglecting safety and hiring the wrong team.
Key reasons for project management failure include poor contracts, lack of planning, poor monitoring and controls and poor issue management and coordination, all of this leading to delays and overbudgeting.
VENEER-BASED
Plywood and Veneer-Based Technologies: Innovation, Change, and the Carbon Connection was the title of a session moderated by plywood industry veteran Dick Baldwin.
Baldwin started it off by addressing softwood veneer's carbon connection. He noted that 20 years ago forest preservation was deemed good and forest management was bad, while the industry's factual response went unheeded. Today, Baldwin said, global warming is the Mega environmental issue, CO2 emissions are generally accepted as the principal cause, and thus a managed forest and forest products are supportive, given that forests remove and store CO2, and forest products store CO2. Also, wood in construction replaces carbon-unfriendly materials.
More specifically, Baldwin said, veneer-based products are even more "environmentally virtuous." The veneer process is comparatively yield efficient and generates less wood fiber waste than many other conversion options, he said, and veneer-based products use less wood fiber for a given structural application than comparable lumber-based counterparts.
Oregon State University Dept. of Wood Science & Engineering professors Fred Kamke and Arijit Sinha spoke on the expanding role of plywood and veneer-based products in construction.
They noted that global mass timber panel growth is beating projections, looking at 6 million m3 in 2022, and that there's rapid acceptance of veneer-based MTP. They cited multiple advantages of veneer-based MTP such as the layup is optimized for engineered end use and material availability; and when comparing to similar thickness CLT panels, there's higher strength, higher compression, more predictability, higher capacity, overall greater versatility and a favorable carbon narrative.
They also pointed to alternative veneer species and the opportunity to design mixed-species layups to optimize properties, costs and availability. And they spoke on veneer modification to provide upgrade of low quality veneer or inferior species, and improvements in water resistance and other properties, through chemical, thermal and thermo-hydro-mechanical treatments.
Clayton Paratore, technical sales engineer with USNR, delivered a presentation on the history and evolution of veneer lathes as prepared by VP Alan Knokey.
After delving into the beginnings of lathes, particularly in the early 20th century, the presentation referred to 1950-1975 as the age of prosperity, during which Coe Manufacturing shipped more than 300 lathes worldwide. 1975-1990 became the beginning of automation as traditional peeler logs on the West Coast became scarce thanks to developments with the Northern Spotted Owl. Meanwhile OSB came on and halved traditional consumption of plywood.
The advancement of electronics in this timeframe created PLCs, linear transducers, and proportional valve control, evolving into full servo-controlled, and Coe came out with the scanning and repositioning lathe charger, digital carriage drive, back up rolls, roller bars and electronic pitch rails.
The presentation referred to 1990-2022 as the modern era, adapting to very small block and core diameters, salvaging commercial grade veneer from low density and defective species, high speed production of small diameter blocks, and related improvements such as the multiple point diverter system.
"The good" coming out of the modern era is that veneer can be peeled effectively from 0-1500 FPM, can scan and clip at a constant rate of 600 FPM, good veneer can be separated from trash with MPDS technology at 650 FPM, commercial quality sheet veneer can be stacked at 800 FPM and random at 400 FPM.
What about the bad? Lathe knives are the number one problem, becoming dull prior to four hours of operation, difficulties in positioning knife location, knife grind is not necessarily uniform, not enough minutes of production time in a shift.
The path forward is creating more time per day by automating knife changes, changing the knife when it becomes dull, and locating the knife accurately at every knife change; also automating the clipper infeed conveyor and enhancing clipping strategy toward no fishtails and saving only 12 in. random.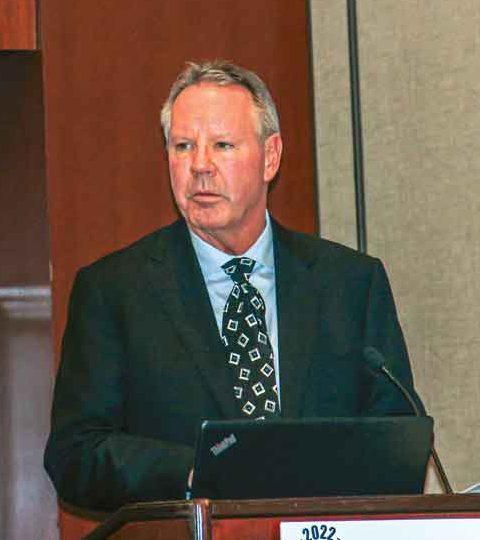 Rob Freres, president of Freres Engineered Wood in Oregon, spoke on his company's 100-year history and evolution into innovative wood products including more recently Mass Plywood Panel (MPP). Today the company operates a pair of veneer manufacturing plants, a veneer drying facility, a stud mill, cogeneration plant, a trucking division and the new MPP facility.
Freres said the company has invested $200 million in technology in the past 16 years.
He recalled the early conversations on cross-laminated timber. "We immediately thought plywood is already cross-laminated," Freres said. "The next thought was, 'Trus Joist proved superior performance using less wood fiber compared to full sawn lumber.'"
After further research, Rob and his cousins Tyler and Kyle believed a mass plywood panel could meet or exceed the performance of CLT with a fraction of the wood fiber; plywood is dried to the requirements of CLT without the extra lumber drying cost; there is less recovery downfall in the manufacture of MPP vs. CLT; MPP is not limited in thickness to odd numbered 1 3/8 in. lumber sizes; and the Freres company has been stress grading veneer for engineered wood products since 1990. They viewed scarfing 4×8 ft. panels as handling a lot fewer pieces than dimension lumber used in CLT and they would have the in-house quality control by using their own veneer and plywood and LVL lamellas.
Freres reviewed the process of equipment supplier and technology selections, hiring a construction contractor, MPP testing, and plant site selection, which turned out to be a former sawmill site they owned halfway between their Lyons, Ore. veneer mills and their Mill City, Ore. plywood plant.
Since the plant has become operable, overcoming the challenge of perfecting the scarf joint, and through the testing process with Oregon State University and APA, Freres comments, "We know the MPP plant has great versatility in the types and sizes of products that can be produced. Much greater than CLT. I like to say our customers are only limited by their imagination as to the products we can produce for them."
Tom Evans, former chief of operations at Coastal Forest Resources, spoke on the integration of technological advancements and more specifically on measuring acoustic velocity of a random sampling of SYP logs at Coastal plywood mills in Havana, Fla. and Chapman, Ala. and the resulting comparisons between log quality and physiology. The identification of the key metrics can relate to the veneer quality of SYP peeled on a rotary lathe, and the identification of the differences in inbound material could help Coastal decide where to spend resources, whether on lathe technology or targeting older growth timber.
Protocol called for a minimum of 500 stems at each location, sampling every fifth stem, DBH measurement and boring to count rings from center to the inner bark, while noting any visible defects.
Based on this testing, it was recommended that Havana incorporate Rings Per Inch more into the decision-making process regarding procurement, educating foresters about its importance, making sure they have the proper tools, and making RPI a part of any cruise or tract appraisal; while Chapman should accelerate the process of moving to 100% shorts to gain greater quality without sustaining greater log cost, and meanwhile initiate ActivPlant and camera systems to lock down control regarding block conditioning and other metrics; and install new core drive technology.
Evans also noted that additional testing and data were needed to corroborate findings. As Chapman implemented some of these measures, it increased average acoustic velocity by 400 ft./sec., and increased on grade percentage 4% along with other operation enhancements that contribute to more than a $5 million annual impact.
RESINS & WAXES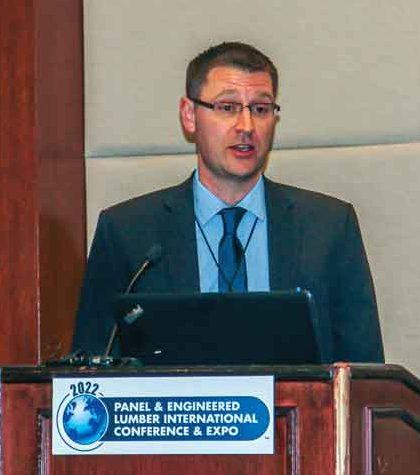 The Resins, Waxes, Coatings session drew considerable interest and included four presentations, led off by Jesse Paris, R&D Group Loader over Bio Materials, Willamette Valley Co., speaking on value-added wax for enhanced panel performance and specifically on the company's patent pending engineered wax emulsion.
The new product is said to reduce wax application, including a 20% paraffin replacement with renewable material; in co-application with p/MDI reduces pMDI by more than 10%; offers reduced wax volatility and reduces fugitive pMDI vapor; and lessens maintenance through reduced atomizer and blender buildup and potential reduction in press-release.
Jeffrey Otjen, technical services project manager, Georgia-Pacific Chemicals, spoke on that company's next generation resin technology, RESI-BOOST Gen2. It reduces spread levels by up to 13% and reduces hot press time by up to 20% in some layup configurations (typically 8-13% without increasing press temperatures). It also reduces mill downfall.
"Removing excess water from the glue increases adhesive tackiness," Otjen said. "The prepressed panels consolidate better and longer, allowing stronger glue bonds to form throughout processing."
Senior scientists Robert Miller and Bill Arndell with GP Chemicals spoke on new high solids urea-formaldehyde scavengers that significantly improve internal bond while reducing resin application and cycle times. This technology with a combined nonvolatile content of approximately 95% eliminates a significant amount of process water.
In customer trials IB was improved and MOR remained unchanged; cycle times were cut up to 8%; resin usage was cut up to 3-5%; emissions ranged to a 0.13 ppm drop; density ranged from unchanged to an increase; face and core moisture showed a decrease.
A second new product, called Tacky Scavenger, in lab and field trials, showed a significant increase in mat consolidation on the line, improved belt transfers without dusting, reduction of downgrade due to mat fractures, no change in emissions compared to standard urea solution, no former/blender buildup, no sticking to belts or platens.
Brian Delbrueck, head of business development with Arxada NA, spoke on the susceptibility of exposed engineered wood products, such as masS timber, to weathering and other factors during the construction process, leading to problems such as mold.
He summarized the company's LotusPro water repellent product that uses diatomaceous earth to provide extreme water repellency. The product is said to dry faster and offer better water absorption and UV resistance, along with low VOC.
Arxada's technology creates a "superhydrophobic" surface, causing the repellence of water, which the company called The Lotus Effect. Water droplets stay in bead form rather than flattening out into the surface. It is said to provide a cleaner looking surface due to picking up less dirt.
Delbrueck said the product offers easy application with reduced impacts on operations, including one coat application, immediate water mixture cleanup, quick drying, followed by material storage and handling with uncoated stickers and dry to the touch before paper wrapping.
FIRE PREVENTION
Some familiar faces and companies spoke during the session on fire prevention, including Dane Floyd, principal at Veneer Services, Inc. Floyd's topic, "The Time Bomb, Dust Safety in Wood Plants," passionately touched on the recent deaths of three workers at a wood components manufacturing plant in Quebec.
Floyd reviewed NFPA (National Fire Protection Assn.) codes and standards, and OSHA standards and proceeded to show photos of various plants which were obviously not in accordance.
Floyd addressed how to control dust, as with enclosed "dust tight" bins and conveyors; negative pressure on leaky machines; spark detection and deluge; explosion panels, flameless vents, anti-blowback devices; isolation of conveyors.
He specifically pointed to his company's SMART conveyor material handling product, referring to reduced power requirements, enclosed dust tightness construction, and other characteristics in compliance with NFPA for dust hazard safety.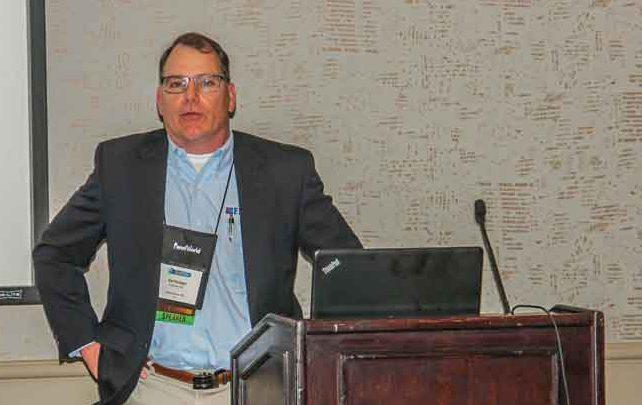 Ed Pridgen, vice president at Flamex Inc., revealed the new Minimax MXOne fire fighting turbine, which emphasizes innovative fire protection using water mist from a safe distance.
The devices allows greater operating area, more effective cooling, more resource efficiency, and extinguishes more rapidly. The spray mode can be adapted to the fire load.
Offering 360° rotation and quick rise and tilt positioning, it features a discharge rate of up to 246 ft. and is operable with seawater and foam additives. Its low operating pressure means it can be connected to the local mains water supply. It's available as a stationary and mobile version and can accommodate a range of control mechanisms, including by smartphone.
Jeff Nichols, managing partner at Industrial Fire Prevention, speaking on behalf of Fagus GreCon, noted wood and wood products still account for a significant share of dust-related industrial fires and explosions.
He addressed GreCon's range of spark extinguishing, fire protection and spark detection products, including the new DLD 1/9 spark detector.
He also spoke on the company's extinguishment systems with atomized water droplet technology for larger spacing, better cooling and less usage.
Jason Krbec, sales engineering manager at CV Technology, spoke on advances in water mist fire suppression and more specifically quick suppression systems, which are complete systems to combat fire locally around pieces of equipment, relying on fast detection and fast response action item.
He said quick suppression is ideal for areas with hot bearings, motors, sparking equipment and heat generation, and he explained the company's all encompassing Conveyorguard solution including spark and flame detection and water mist suppression complemented by temperature sensing cables.
Speaking in partnership with FireFly, Krbec reviewed the fire and explosion protection device locations throughout the process flow.