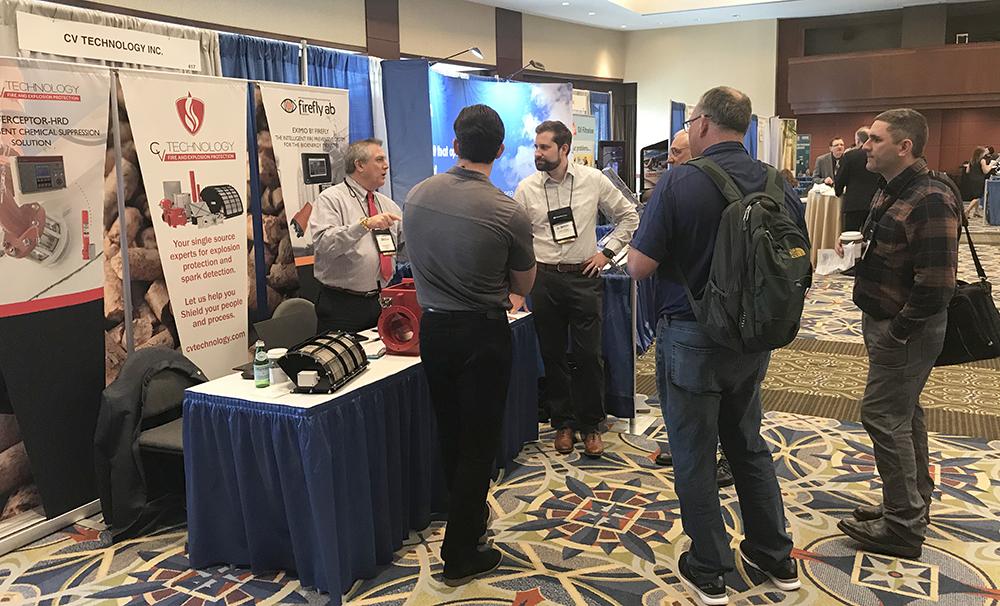 Excerpt from article by Jessica Johnson, Dan Shell and Rich Donnell, Panel World magazine
Thirty-four speakers and 80 equipment exhibitor companies participated in the seventh Panel & Engineered Lumber International Conference & Expo (PELICE) held March 12-13 at the Omni Hotel at CNN Center in Atlanta. Attendance, including speakers, exhibitor personnel, producers, consultants and academia, was 287.
The event, hosted by Panel World magazine and Georgia Research Institute, featured an impressive range of presentations, including keynote talks from Ashlee Cribb, Senior VP-Chief Commercial Officer at Roseburg Forest Products; Steve Carroll, VP of Operations at Arauco NA; Mark Lindquist, VP-Operations at Huber Engineered Woods; Terry Secrest, Executive VP at RoyOMartin; Jerry Uhland, CEO of CalPlant I; and Frank Goecke, Director at AFRY.
"Certainly it was the most intense PELICE we've ever experienced," comments Rich Donnell, co-chairman of PELICE and editor-in-chief of Panel World, referring to the COVID-19 crisis that was coming on. "We obviously lost some attendees due to company travel restrictions that literally hit as the conference was opening."
Sixteen wood products producer companies sent personnel, Donnell notes, but while many of them had registered multiple personnel to attend, they each ended up sending a few.
Donnell said only several scheduled speakers and several exhibitors couldn't make the trip. "People and companies obviously had to do what they felt they had to do," Donnell says. "We're grateful that the bulk of them made it to PELICE."
Introducing the first morning keynoters session, quoting from the movie "Saving Private Ryan," Donnell said, "We have crossed some strange boundary here. The world has taken a turn for the surreal."
Donnell added, "I have faith that the wood products industry will set an example and be a leader; after all, you are an industry made up of producers and innovators, and no matter what kind of environment you find yourselves operating in, you will figure out the best and safest ways to push ahead and persevere in this climate of uncertainty."
Donnell suggested to the attendees that they would enjoy escaping the virus-talk if but for a few hours while focusing on presentation subjects such as new project implementation, technological developments, new generation wood (and non-wood) products and organizational growth.
ASHLEE CRIBB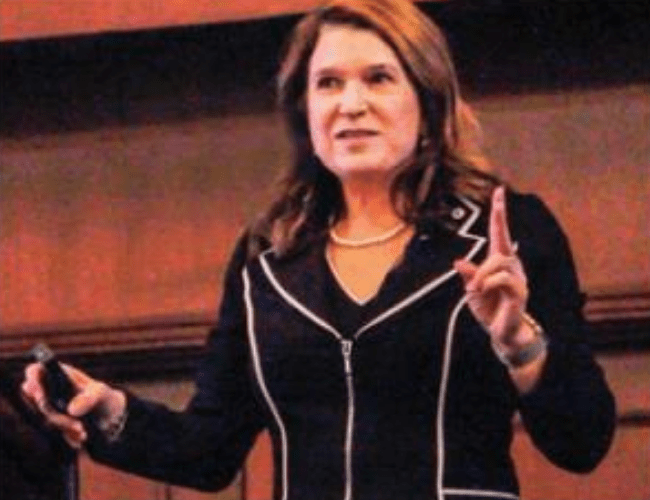 Indeed the spirit of the conference remained vibrant and the opening talk by Roseburg's Cribb on Growth through Investment and Innovation set the pace.
Cribb first provided some background on Oregon-headquartered RFP, including its history dating back to 1936, and she noted its ownership of more than 600,000 acres of timberland and 14 manufacturing facilities producing a diversified product line today.
"When we talk with our team about why we exist as an organization, our answer is to make lives better from the ground up," she said, adding that the move of the company's headquarters from Dillard, Ore. to Springfield, Ore. in 2016 gave them access to a broader group of talent and the opportunity to "reset on our culture as we transitioned to the first non-family CEO."
STEVE CARROLL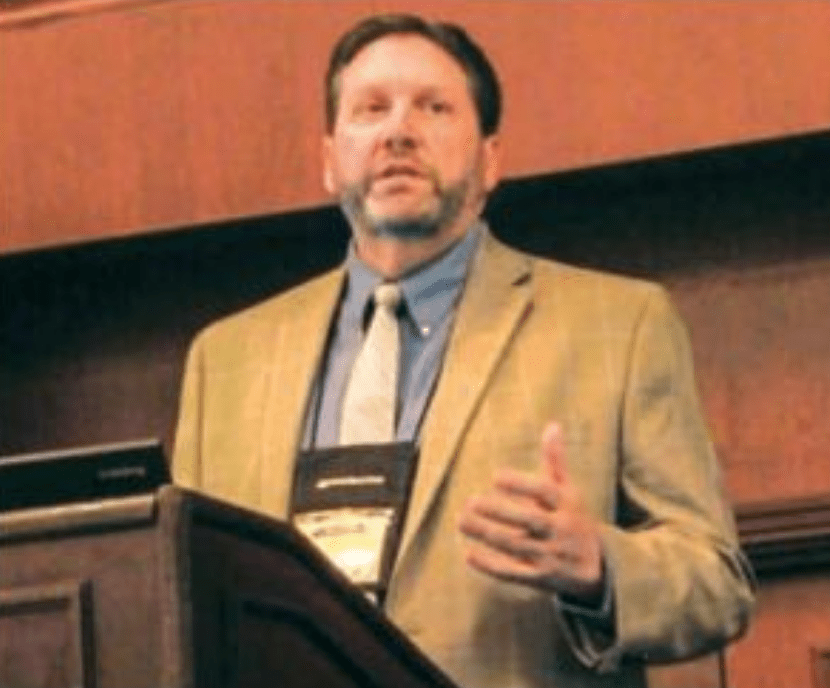 Arauco NA Vice President of Operations Carroll spoke on Arauco Grayling: Building a Future, concerning the company's new particleboard plant in Grayling, Mich. He reviewed the values of the company—safety, good citizenship, commitment, excellence and innovation, and teamwork—and provided some history of the company which started as a Chilean forestry and pulp firm, before entering the panels business in 1998 and going on a massive acquisition program in the past decade, acquiring eight panel mills in Canada and the U.S., and 10 panel mills and sawmills in Europe and South Africa.
The Grayling mill is the first greenfield particleboard mill in the U.S. since 2001, with a $450 million investment, Carroll said. Arauco chose the site because of a high concentration of demand in the Midwest, abundant raw material supply, good logistics platform, available training partnerships, local resin supply, state and local incentives and generally a welcoming attitude in the region.
The mill includes 820,000 sq. ft. under one roof, on 160 acres within a 640 acre plot. It features a Dieffenbacher 10 ft. x 52.4 m continuous press and the mill production capacity is 452MMSF annually. It also includes two Wemhöner TFL lines and room for a third. The first board was produced on February 8, 2019 with first shipment the following month.
MARK LINDQUIST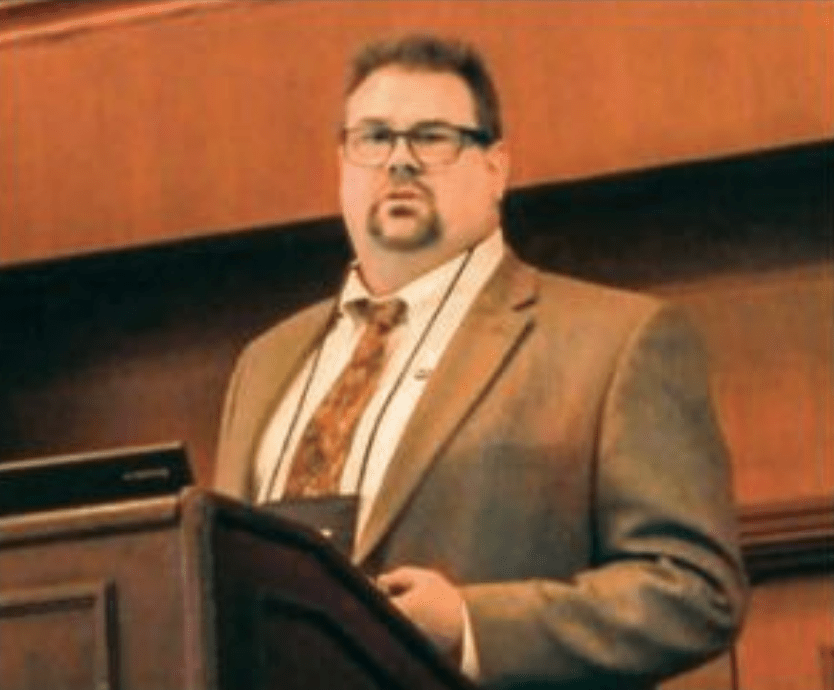 Also in the leadoff lineup of speakers was Mark Lindquist, VP-Operations, Huber Engineered Woods, who addressed the company's Spring City Plant Restart in Tennessee.
Lindquist first provided an historical overview of the privately held company, which was founded in 1883 and is in its sixth generation of ownership. The company entered the OSB industry in 1983 with the commissioning of its plant in Easton, Maine. Today it operates five OSB sites with 2.4 billion SF of manufacturing capacity.
Lindquist reviewed the subprime mortgage crisis that became The Great Recession from December 2007 through June 2009, with economic ramifications continuing well after. The company curtailed its Spring City plant in October 2011 and assembled a team to preserve the plant's assets and manage the site. Huber had produced its first board at Spring City in late 1997.
Over the next four-plus years, Huber worked with key suppliers such as Siempelkamp, TSI and Globe to improve on original designs, address process safety and modernize equipment centers, while adhering to the company's principles of world class EH&S, ethical behavior, respect for people, and competitive excellence, with enhancement and upgrade projects defined by a People-Planet-Profit results criteria.
TERRY SECREST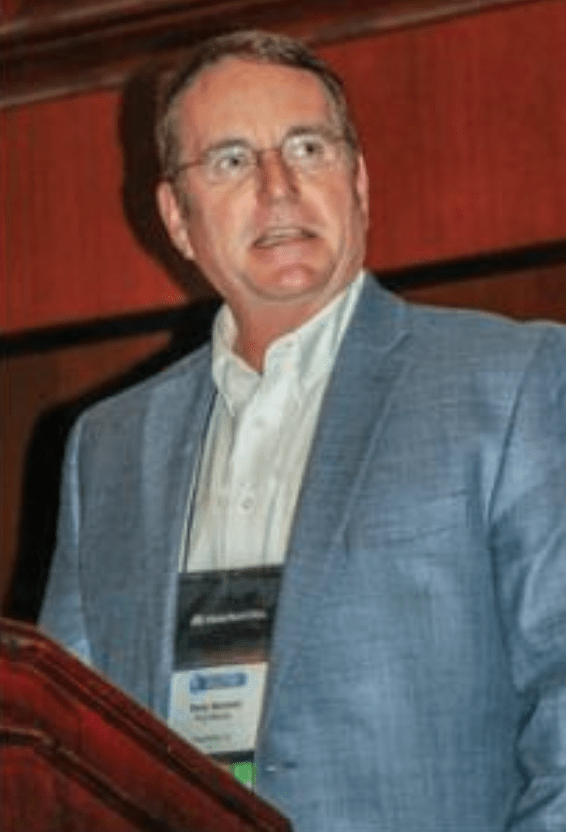 The post-lunch keynoters session featured a very passionate talk delivered by Terry Secrest, Executive VP of Manufacturing and Product Sales at RoyOMartin. Secrest's presentation on The RoyOMartin Journey to a World Class Safety Culture pinpointed when the company's approach to safety took a major turn.
Secrest said safety was not a priority for many years at the company and he showed several photos depicting such, including one entitled "Safety pays in dollars and hams."
The philosophy was that accidents just happen," Secrest said. "But employees were being injured at an alarming pace."
Secrest described three employee deaths at the Lemoyen facilities during 2003-2004. One of them was a young man Chairman Jonathan Martin had hired several years earlier. Jonathan had known him, his brothers, sisters and parents from church. Secrest recalled the pain of having to visit the family members of the deceased. "Safety became very personal to Jonathan," Secrest said. "These deaths forever changed the company's trajectory in safety."
When the company went to look at its deficiencies with regard to safety policy, it found plenty: Lack of leadership with no clear safety vision; production was emphasized over safety; safety was viewed as the worker's responsibility; incident reporting was not encouraged, and incident investigation when done was weak and not getting to the root cause; few LOTO-T procedures; few written standard operating procedures; no auditing of jobs. Safety violations emphasized discipline over training and corrective action.
Executive leadership brought in a third party to survey the company's culture and systems, resulting in the creation of a safety policy and making safety a "value," not just a "priority."
JERRY UHLAND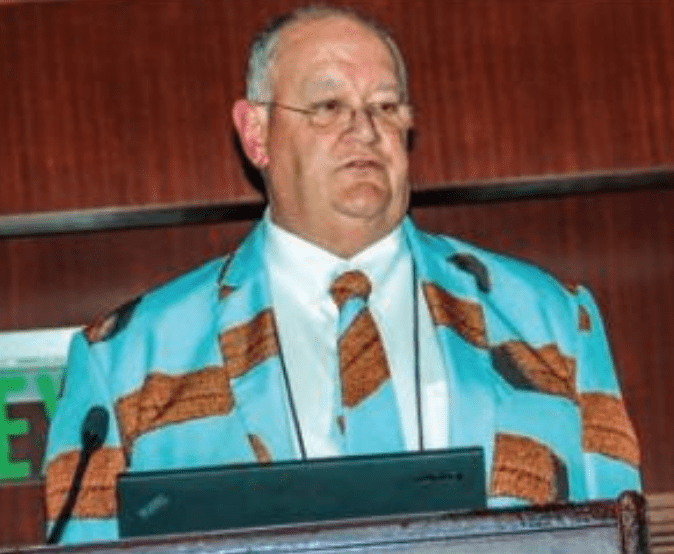 20 Years, 8 Months and 17 Days…But Who's Counting was the title of the talk presented by Jerry Uhland, CEO of CalPlant I, the new rice straw-based medium density fiberboard plant entering startup in Willows, Calif. Uhland told the story of the long and winding road, and the roadblocks therein, to reach the financial and physical realization of the plant.
Uhland has been involved in the California rice industry for more than 40 years and for the past 23 years has been the driving force behind the CalPlant project. In the 1980s he developed a trade-secret process for gelatinizing starch in cereal grains and applied a similar science to rice straw-based MDF.
California's Sacramentao Valley is the second-largest rice-growing region in the U.S., planting more than 500,000 acres annually, and the state produces 20% of U.S.-grown rice and 85% of U.S.-grown medium grain rice. The California product is considered high quality rice, Uhland said, and commands a price premium and is used in nearly all U.S. sushi.
CalAg was founded in 1996 by longtime California rice industry veterans Jim Boyd and his family and Uhland to address the challenges and costs to rice growers due to the ban on burning and propose a possible solution. Their trial work on rice straw-based MDF began and the first successful MDF trial was in 1997 at the BioComposites Centre in Bangor, Wales. Trials with Valmet (Metso) began in 2000 and continued through 2006. CalAg, LLC obtained a patent in 2003 on the process for refining rice straw into fiber with which MDF can be manufactured. Capital raising was seeing momentum in 2007 but a credit crisis and severe hike in debt interest rate stalled what Uhland called "Capital Raising Take I."
FRANK GOECKE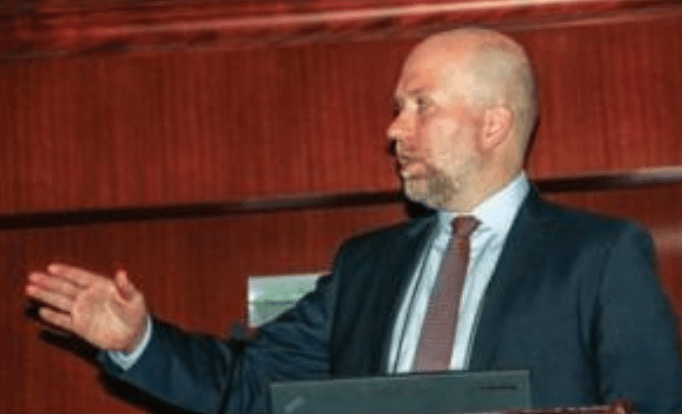 Frank Goecke, Director of AFRY Management Consulting, spoke on Dynamics in Wood-Based Panels and Engineered Wood Products—Opportunities and Challenges for the North American Industry.
First he noted that in February 2019 AF and Pöyry had merged and in November become AFRY with more than 16,000 experts in five divisions: infrastructure, industrial & digital solutions, process industries, energy and management consulting. Their service offerings fall under several categories including: strategic advice, operational excellence, market insights and modeling, and investment and mergers & acquisitions.
Goecke said the construction outlook is only moderate in both residential and commercial new build and renovation construction in North America to 2025. New build residential construction is expected to remain fairly level topping at $369 billion in 2022 while renovation shows gradual increase to $228 billon in 2025. Commercial new build is level, reaching $386 billion, and commercial renovation is level at just more than $200 billion over the next five years.
However, Goecke said the substitution potential of wood-based building materials in construction is expected to increase, driven by new building regulations, sustainability aspects as well as technical and cost benefits. He pointed specifically to friendly developments in mass timber building construction in North America, showing several projects in North America, including a conceptual study of an 80 stories tower in Chicago.
BIJAN SHAMS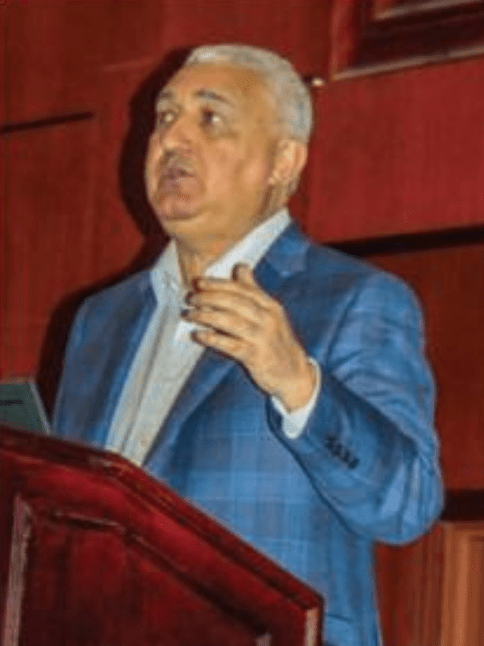 Detailing how panel plant operators can better utilize data not only during project planning and construction but also during operations to make better decisions quicker, Bijan Shams, President of Cogent Industrial Technologies, illustrated how Executing Projects In the Digital Age can deliver the highest efficiency from assets, people and processes.
Digital transformation is affecting every facet of society and business, Shams said, and providing ever more opportunity to improve plant operations by utilizing better technology such as artificial intelligence, predictive analytics, 5G infrastructure and the convergence of information and operational technologies.
According to Shams, making the digital transformation in operations is all about using these emerging and powerful technologies to sustain high performance while quickly responding and managing any events or disruptions that impede efficiency.
WOMEN with WISDOM
During the breakout session "Women in Manufacturing" RoyOMartin's Michelle Driscoll and Georgia-Pacific's Anna Umphress took to the podium to discuss advocating for higher visibility in the wood products sector for women.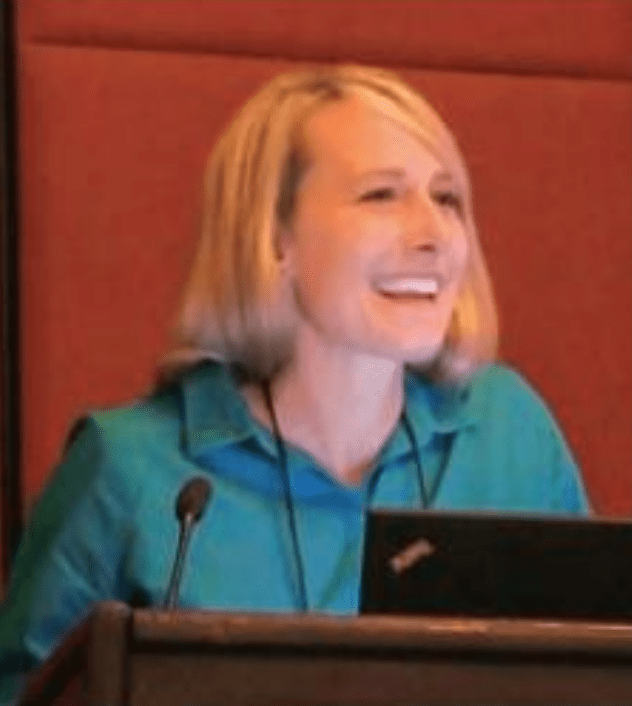 Driscoll, the Technical and Environmental Manager at RoyOMartin's Corrigan OSB facility in Texas, gave A Look into Self-Growth, Working Outside the Norm and Mentoring Future Leaders, which began with a third person account of a woman in the World War II era who worked in manufacturing. As life and times evolved in the story, Driscoll revealed the woman to be her grandmother and inspiration to her as she navigated the wood products manufacturing sector.
Driscoll, a graduate fisheries biologist, found an unexpected home with RoyOMartin after working with both Temple-Inland and Georgia-Pacific. Hired on to be the production manager of RoyOMartin's new Corrigan OSB facility through startup, she says there was a major learning curve to being in a new environment surrounded by men—whom she says sometimes had more experience navigating the machinery and processes than she did, a simple fisheries biologist from Mississippi State. She recounted how steep the learning curve was during those startup months, how she made plenty of mistakes and yet together the plant's team came out the other side with a success story. Driscoll (and by default her grandmother) hammered home the point, "Don't ever let being a girl be an excuse."
Driscoll closed her talk with a video looking at all the women employed at the Corrigan facility in Texas, the impact they make on production and what they have learned while being a woman in manufacturing where among their leaders is a woman. The four-minute video featured the 22 women employed by RoyOMartin in Corrigan in a range of roles from process engineer to office staff to production team members. Each woman provided impact statements on the role of mentoring through the organization—many mentioning Driscoll—and the majority commenting how mentorship and celebrating what employees can do is not only expected within the company, but is the culture.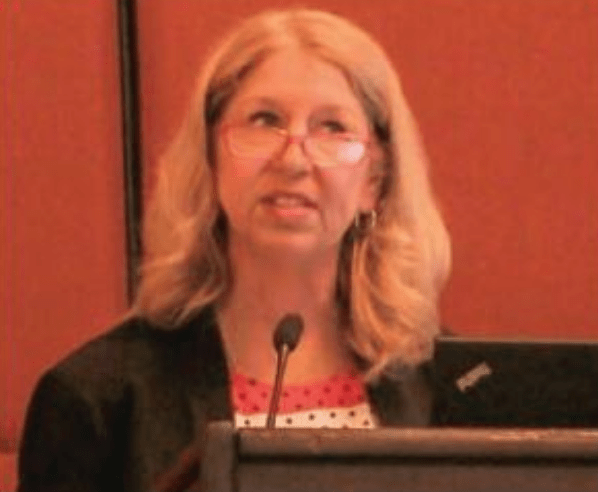 Up next was Umphress, who is the Senior Director of Business Unit Communications for Georgia-Pacific. Her talk, If You Can See Her, You Can Be Her: Raising the Profile of Women in Manufacturing at Georgia-Pacific, was twofold, focusing on a consumer campaign Georgia-Pacific did to target market women with its Brawny paper towel brand, and then how the communications team took that concept and campaign and focused on women working in GP plants.
By replacing the famous "Brawny Man" with women, Georgia-Pacific reached a new plateau with U.S. consumers, where research says women and girls are under represented in advertising and the media in general. Umphress shared that their research found that millennial females are two times more aware of gender bias and more likely not to purchase from brands that exhibit that behavior. She explained that after the wildly successful consumer campaign, there was an opportunity within GP's own organization to raise the profile of women working in their own plants, both for recruiting but also general morale. In a series of videos, viewers meet the women of Georgia-Pacific from coast to coast. Two of them were Swanetta Best, Production Supervisor from GP's plywood mill in Dudley, NC, and Tara Binn, Operations Manager of GP's Eugene, Ore. chemicals plant.