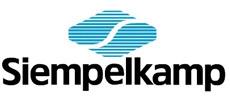 One of the world's leading manufacturers and suppliers of machinery and technologies to the panel industries, Siempelkamp, has signed up as a Gold Sponsor for the 2012 Panel & Engineered Lumber International Conference & Expo (PELICE), to be held March 1-2, 2012 at the Omni Hotel at CNN Center in downtown Atlanta, Georgia, USA.
Dr.-Ing Hans W. Fechner, CEO of G. Siempelkamp GmbH & Co KG, will deliver one of the keynote addresses during the event.
The 2012 PELICE marks the third time for the event. The 2008 and 2010 PELICE each drew approximately 500 participants, 60 exhibitors and 65 speakers and moderators who addressed a range of topics in the structural and non-structural wood products industries. PELICE is hosted by Panel World magazine and Georgia Research Institute.
Siempelkamp (including Buettner GmbH) will also serve as a Gold Sponsor for the Bioenergy Fuels & Products Conference & Expo, which will be held immediately preceding PELICE on February 28-29, 2012, meaning Siempelkamp will maintain the same booth location for both events in the Grand Ballroom North of the Omni Hotel. The Bioenergy Conference is hosted by Wood Bioenergy and Panel World magazines and Georgia Research Institute.
For exhibitor or conference information contact:
Fred Kurpiel, 678-642-1238; e-mail [email protected]
Rich Donnell, 334-834-1170; e-mail [email protected]
Dianne Sullivan, 334-834-1170; e-mail [email protected]