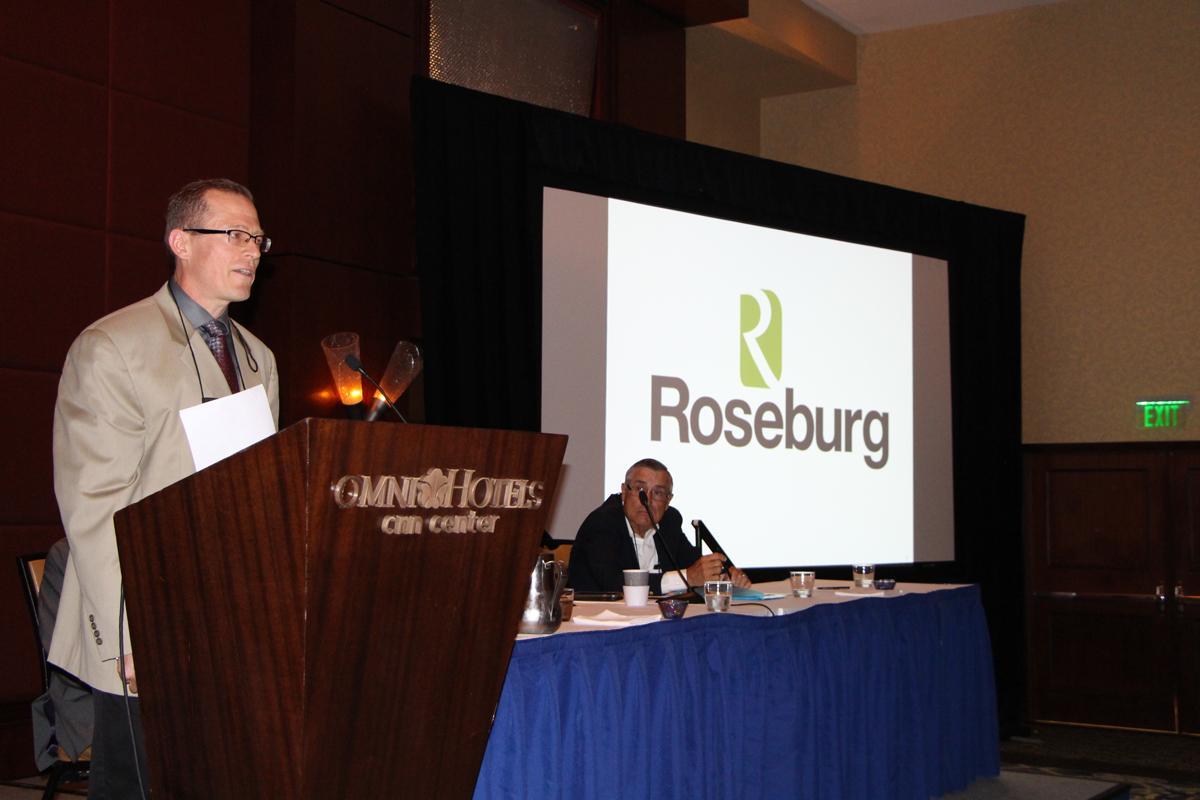 Roseburg Forest Products VP-Composite Wood Products will address the impact of the Biomass Crop Assistance Program (BCAP) on composite panel manufacturers, during the upcoming Panel & Engineered Lumber International Conference & Expo to be held February 4-6 at the Omni Hotel at CNN Center in downtown Atlanta, Georgia, U.S.A.
The BCAP put forward by the USDA has some dire unintended consequences for the domestic composite panel industry, according to Keeling, including the diversion of tax dollars to subsidize alternative uses of material already fully utilized, and the subsequent shrinking of an already limited raw materials basket.
Long-time panel industry entrepreneur John Godfrey, who independently developed, financed and then sold four OSB projects over a span of 25 years, will address the current financing task for energy related projects in the forest products sector. He will touch on "what it may take" to put together a successful financing proposal in today's climate and to then to execute a project that will be ultimately rewarding to the original developer.
Meanwhile Louisiana-Pacific VP-Engineered Wood Products Brian Luoma will speak on LP's launch of its SolidStart laminated strand lumber product line, and reflect on the lessons learned in introducing a new engineered wood product during the worst housing market since before World War II.
Keeling, Godfrey and Luoma are but three of 65 speakers and moderators participating in PELICE. The event is co-sponsored by Panel World magazine and Georgia Research Institute. The first PELICE was held in 2008 in Atlanta.
The event kicks off on Thursday evening, February 4, as Anders Gustafson, CEO of BRUKS AB, addresses "How Energy is Driving the Global Forest Products Equipment Market." He'll be followed by Art Schmon, principal with Forest Economic Advisors and a veteran of the engineered wood products business, who speaks on "The Way Forward: The Outlook for Engineered Lumber Products in 2010 and Beyond."
Among the many speakrs, Daniel Cromie, principal with Atlas Holdings, will speak on "Capital–Human and Financial Are Key to Private Company Success in a Challenging Economy." Arauco Business Unit Manager, Scott Wiles, will touch on "Arauco's Environmental Commitment."
Simultaneous sessions Friday focus on Resins & Adhesives, Emerging Issues, Structural Products & Technologies, and Energy to Emissions, and continue to Saturday afternoon.
Dr. Al Landers, VP of Research and Development, Huber Engineered Woods, will address "Wood Products: Giving Builders What They Need." Muhammad Ridzuan, CEO, Blue Mountain Resources, and two representatives from the Forest Research Institute Malaysia will speak on "Challenges and Opportunities in Bringing Engineered Lumber Technologies in Malaysia." Pete Walker, Product Manager, Grant Forest Products, will address "Benefits and Applications of OSB with Radiant Barrier Coating.
Michael Blosser, VP, Environment, Louisiana-Pacific Corp., will talk about "Building Sustainability" and how operating upon a sustainable business foundation remains core to LP's success.
Roger Tutterow, Professor of Economics, Mercer University, as one of the luncheon speakers will address "Economic Factors Impacting A Housing and Non-Res Recovery."
Other issues to be addressed during PELICE include the nationalization of the CARB formaldehyde emission standards, green building and certification programs, air emissions control regulations and technologies and many others.
Immediately preceding PELICE, on Thursday, February 4, is the Bio-Energy Fuels and Products Symposia & Expo, also to be at the Omni Hotel at CNN Center.