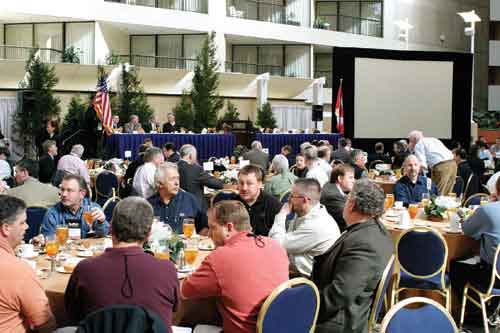 The 2010 Panel & Engineered Lumber International Conference & Expo is officially open to exhibitor sponsors, and already a dozen companies have signed up for the event.
The event will be held at the Omni Hotel at CNN Center in Atlanta on February 4-6. Held every other year, the first PELICE was held this past February also at the Omni Hotel. It attracted 600 registrants, 90 exhibitors, and featured 90 speakers who addressed a range of subject matter including structural and non-structural products and technologies, emissions, energy, resins, research & development and other topics.
Co-producers Panel World magazine and Georgia Research Institute report that several companies have already signed up for one of the exhibitor sponsor packages—Gold, Silver or Bronze. The companies include: Bruks Klockner, Electronic Wood Systems, Search North America, Megtec, TSI, Hunt Guillot & Associates, Con-Vey Keystone, TECO, Kimwood, Globe Machine and Tri-Mer Corp.
"We've really jumped out of the starting gate quickly for the second PELICE," comments Fred Kurpiel, co-chairman. Kurpiel notes that the entire event will be held in the Grand Ballroom North Tower, with the three primary meeting rooms immediately adjacent the exhibit area.
Kurpiel says the event is currently accepting exhibitors who sign up for one of the sponsorship packages, and that he expects the sponsorships to consume all of the available exhibit booths. Obviously those companies signing up early are allowed to choose their booth locations.
Kurpiel adds that the planning for the conference agenda is under way. "We'll continue to focus on the pertinent technologies and issues of the day," he says. "We're hoping of course that first quarter 2010 will reveal positive trends for the economics of our industry. Who knows, maybe PELICE 2010 will turn into a celebration."