ATLANTA, Ga.
A record attendance participated in the fourth Panel & Engineered Lumber International Conference & Expo (PELICE) held March 20-21 at the Omni Hotel at CNN Center in Atlanta, Georgia. An all-star lineup of conference speakers and technology sessions attracted 404 industry professionals, a whopping 33% increase over the previous PELICE in 2012. And with improving markets in structural and non-structural wood products, supported by stronger housing construction, attendees participated with enthusiasm and hopefulness that positive forecasts will bear fruit.
Thirty wood products producer companies sent multiple representatives to PELICE to hear 45 speakers address industry developments, new projects, technologies, operational enhancements and predictions for plywood, oriented strandboard, engineered wood products and composite board segments. They also combed the aisles of the Grand Ballroom North, where a sold-out exhibitor floor featured 75 machinery, supplies and service companies.
The fourth PELICE, which is held every other year, was the best one yet, according to Co-Chairman Rich Donnell, who is also the editor-in-chief of Panel World magazine, which hosted the event along with Georgia Research Institute.
"This PELICE was the only one of the four held so far where the enthusiasm was high because of the economy and the business at hand," Donnell says. "The 2012 event had a little buzz about it, but nothing like this one. Yet, there's still a lot of ground for the building industry to make up. Maybe we will be riding even higher at the next PELICE."
Organizers announced at the end of the event that the fifth PELICE will be held April 7-8, 2016, again at the Omni Hotel at CNN Center in Atlanta. "As good as this attendance was, I know there was some conflict with spring break trips. Moving the event a little further into the spring should clear us of that issue in 2016," Donnell says.
PELICE was immediately preceded by the Bioenergy Fuels & Products Conference & Expo. The close-coupled conferences format will continue in 2016, according to Donnell, who added that 53% of the exhibitors participated in both conferences.
PELICE featured 10 keynote speakers during three general sessions. In addition to the general sessions, breakout sessions covered Adhesives Technologies, Veneer Drying, In-Line Board Enhancements, Manufacturing Developments, Methods & Improvements, Air Emissions Technologies, Dust Control, and Operational Benefits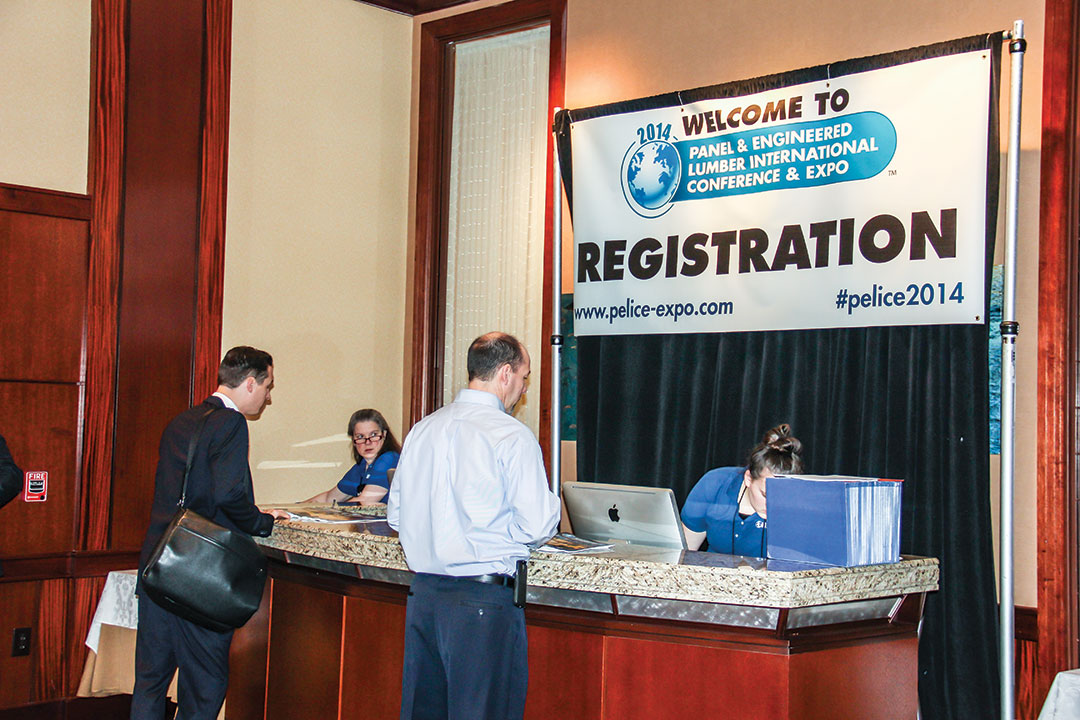 FORECASTS
Few in attendance ventured to guess at the industry's distant future, but short-range forecasts were mostly positive, including that of national economist Roger Tutterow and senior economist wood products at RISI, David Fortin.
Tutterow, who is professor of economics at Mercer University, is highly acclaimed for his accurate forecasts, and appeared at PELICE for the third time, kicked off the event as first keynote speaker by noting that in the "most pronounced correction since the Great Depression," the question he's most often asked is "Why is the economy so slow even though we're in recovery, and when will 'normal' arrive?"
After reminding the PELICE audience that technically the U.S. economy has been in "recovery" since mid 2009, Tutterow noted that although employment and housing haven't recovered from pre-downturn levels, "Both are on the way; we keep looking for a big surge in activity for the recovery, but we haven't seen that yet."
Tutterow said he's looking for more broad-based growth in 2014. Though it's not very flashy, "The recovery remains in gear," Tutterow said, noting that the leading economic indicators are up 3.5%. "Manufacturing keeps creeping back up, and that's a good economic driver for helping to grow commercial real estate numbers," he added.
While employment levels have lagged throughout the slow recovery, Tutterow said he expects employment to be back at 2008 levels within a year. He added that every sector of the economy has expanded.
Rising home prices mean more equity in-house, "and more households will be right-sized in their mortgages, which will help lead to more housing growth," Tutterow said, adding that lenders and homebuilders are going to have to re-educate consumers on what an acceptable or low interest rate is after such an extended period of near-zero interest rates.
Tutterow noted that one of the biggest risks to the slow recovery is some type of energy crisis or instability in oil-producing regions that would spike oil prices well above the $100/barrel mark. "If the price of oil goes up to $125 a barrel, that's like a big tax on the economy," he said.
As for major economic initiatives in an election year from the government—forget about it, Tutterow said. "In an election year, politicians will do what they've always done: pander to their base," he claimed. He added there's a good chance for Republicans to re-take the Senate in 2014.
Specifically addressing the economics of the wood products industry, RISI's Fortin pointed to improving markets but also increased volatility in the structural panel market, depending on capacity-demand ratio and subsequent price trending. He noted that 4.5 billion SF of OSB capacity has been restarted, with another closed plant expected to come on in the Southeast. Structural panel prices flowed downward during the course of 2013.
But the "uneven U.S. housing recovery" will drive demand for structural panels higher, according to Fortin, whose chart showed housing starts reaching 1.5 million in 2015. Despite restarted capacity, demand will put pressure on OSB capacity by 2015-2016, indicating an upward trend in pricing.
Fortin's charts showed 13-15% per year demand growth for OSB during 2014-2015 and 2-4% per year demand growth for plywood.
Fortin also called for prices and profitability to trend upward in the non-structural panel market. Demand will be driven higher by improvements in housing and related end-use markets—U.S. furniture demand and production is growing, and growth in residential repair and remodeling expenditures, he said.
Offshore imports of MDF/HDF will play an important role as capacity approaches nameplate levels by late 2014-2015. Domestic particleboard production will increase, but remain below capacity levels through 2015, he added.
ARAUCO
Kelly Shotbolt, president of Flakeboard Company Ltd., spoke about the future of composite panels in North America. First, he offered one important lesson learned from the particleboard sector in recent years: that particleboard demand declined during the largest housing surge in history, stemming from poorly invested North American production assets, and furniture production moving offshore in combination with a strong U.S. dollar, weak Chinese currency, extremely lower labor, freight and other production costs.
Looking ahead, Shotbolt expects more consolidation and more investment in state-of-the-art mills. "North America needs to match and exceed the scale, efficiencies, capabilities and degree of automation being invested throughout the rest of the world," he said.
He added that competition will remain intense, with imports both in finished form and raw panels playing a major factor. He also emphasized that the supply chain must be optimized and that there are opportunities to squeeze out more costs by embracing automation technologies. And he suggested closer cooperation with customers on new furniture designs and a new level of customization among composite panel products.
Shotbolt focused on Chile-based Arauco as a company that others may want to study when dealing with the challenges and opportunities in North America. Arauco acquired the Flakeboard plants and the Uniboard complex at Moncure, NC in 2012 and through Flakeboard America the assets of SierraPine this year.
Shotbolt pointed to the diversity of Arauco operations in forestry (1.633,089 hectares), pulp (3.2 million ADt), composite panels (6.5 million m3), solid wood (including plywood) (3.6 million m3), energy (684 MW), and its standing as one of the world's lowest cost producers.
"The integral and efficient use of resources allows Arauco to maximize the value of the forest," Shotbolt said. For example, Arauco's Nueva Aldea Industrial Complex in Chile encompasses a plywood mill, composite panel plant, sawmill, pulp mill and 61 MW biomass energy plant.
Arauco's composite panel business, which accounts for almost 40% of revenues, includes operations in the U.S., Canada, Brazil, Chile and Argentina. Arauco is ranked number one in capacity in North America and number two worldwide for MDF, hardboard and particleboard combined.
In the last eight years, several North America businesses have come together under Arauco ownership, including Weyerhaeuser, Flakeboard, G-P Flakeboard, Uniboard and currently SierraPine.
Shotbolt added that the company has a commitment from the Angelini family and holding company Empresas Copec to direct investment toward North America. The company offers financial strength and ability to ride out cycles; technological capability; management depth; and long-term and shared vision, he said.
l Brian Luoma, senior VP and general manager, Engineered Wood Products, Louisiana-Pacific Corp., spoke about the necessity for the industry to finally leave the recession behind and focus on the task ahead.
"We need to keep assessing the future," Luoma said. "We just survived the mother of all downturns. It's time to leave the past and focus on new solutions to new and old products and for new opportunities."
Luoma said LP, the world leader in OSB production, and which operates a strand lumber plant in Houlton, Me., is positioning itself for accelerated growth in strand products and technology, including new applications such as I-joist flange or CLT in strands. He recounted the company's transformation of its OSB plant at Houlton into a producer of strand lumber, and with capacity available to meet growing demand as conventional building wood products come under capacity stress.
"Many changes have occurred across our industry that have shaped our ability to react to rising housing in the next five years," Luoma said. "My hope is that this conference is a little bit of a kickoff to start thinking about the future and get the past behind us."
l Tom Julia, president of Composite Panel Assn., addressed the pending regulation of formaldehyde in composite wood products. He reviewed the evolution of the California Air Resources Board regulation and CARB's adoption of the Airborne Toxic Control Measure for Formaldehyde Emissions from Composite Wood Products in 2008. In May 2013 EPA released two proposed rules following adoption of a national standard and a directive by Congress that EPA write implementing regulations.
Julia noted that currently EPA is finalizing its rules, with the regulation to become effective in late 2015 or 2016; while CARB wants to complete the amendment of its own regulations next year.
"If done right and following Congressional directive, what EPA is doing makes sense for those who make, sell and use composite wood products," Julia said, citing as advantages closure to decades of governmental scrutiny, certainty for panel producers and customers, and greater likelihood of compliance worldwide.
But many issues are still unresolved, Julia cautioned. "CARB and EPA regulations must emerge the same. If not, implementation of both would be confusing and unnecessarily expensive and could even inhibit the manufacture and use of composite panel products," he said.
Also, third party testing and certification consistency around the world must be assured. And Julia emphasized that regulations should not show preference for the type of adhesive that is used to meet an emission ceiling. However, he noted that EPA's proposal is written to push industry to use No Added Formaldehyde adhesives, which could undercut use of ULEF formulations.
The proposed regulations have not fully addressed enforcement and how this will be coordinated by California and the federal government, Julia added. "Enforcement should be fair and consistent no matter where in the world a regulated product is made if sold in the United States."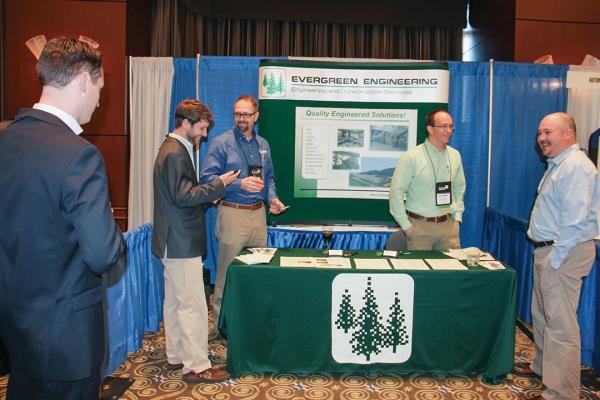 TRADE DISPUTES
Alberto Goetzl, international trade analyst with the U.S. International Trade Commission, spoke on developments in U.S. wood products trade and USITC's role as an administrator of the import injury investigation process, and its responsibility to determine in certain cases if U.S. industries are materially injured by imports priced at less than fair value.
Goetzl said U.S. imports of lumber and wood products was valued at $14.7 billion in 2013, compared to $8.9 billion in exports.
He said Dept. of Commerce determines whether dumping or subsidizing is occurring, while USITC determines whether the U.S. industry is materially injured or threatened. If both reach affirmative final decisions, then Commerce issues duty orders.
He cited several forest products cases, including most recently hardwood plywood from China. In 2012 a coalition of U.S. hardwood plywood manufacturers initiated the case, alleging that Chinese imports are sold in the U.S. at prices below cost and are subsidized by the Government of China.
In the first round of rulings, Dept. of Commerce ruled in the affirmative and the USITC said the U.S. industry was materially injured. Following appeal, DOC stayed with its yes ruling, but in September 2013 USITC switched to a unanimous 5-0 negative vote. The case is now appealed to the U.S. Court of International Trade.
USITC said basically the Chinese product was different and used in different applications, and the pricing data showed that during the period of investigation, the domestic industry was able to raise prices for its products despite substantial volumes of imports of those products at lower prices. And only one of the six responding U.S. producers reported having to roll back announced price increases, according to USITC.
Goetzl said the U.S. has free trade agreements or trade promotion agreements with 18 countries, most recently with South Korea, Colombia and ­Panama.
l Tapani Kiiski, president and CEO of Raute Corp., examined how successful plywood companies are running their operations in Latin America. He said South America is one of the strongest plywood production growth areas, that raw material quality is high particularly in Chile, and that 600,000 m3 of new capacity has come on line in recent months.
Brazil is the biggest producer, using Elliottis pine and Taeda pine, and Chile is number two with Radiata pine.
Kiiski said the first big Radiata pine plantations were planted decades ago and have undergone intensive, systematic management since then. "Plantations form a valuable competitive edge, which is very difficult and time consuming to imitate," Kiiski said. And participants are optimizing the resource into plywood, sawn timber, pulp and energy.
He also pointed to the region's plywood quality, strength and rigidity, durable surface and tolerance to moisture, accurate dimensions, and the latest manufacturing technologies.
He added that Raute is supplying much of the production technology to many of the plants. He said that Raute, which has its main production plant and product development center in Nastola, Finland, and also has production operations in Canada and China, invests 3-4% of its net sales in product development.
Plywood industry veteran Dick Baldwin of Oak Creek Investment spoke about the importance of leadership and leadership tools toward creating a top performing organization that can weather change and challenge.
In addition to tools such as critical success factors, key performance indictors, standard operating procedures and continuous improvement, leaders must communicate vision to the workers, strive for worker satisfaction and trust, facilitate worker response and involve team members.
He pointed to communication tools such as a Weekly Dashboard that presents updated information and measures progress on an interim basis so as to gain and maintain involvement and engagement.
"The goal is to achieve performance level that portend the survival and long-term success for the company," Baldwin stated.
l Dean McCraw of McCraw Energy spoke on the future of Southeastern wood supplies and fired a warning shot that southern seedling planting is undergoing a dramatic reduction accompanied by an increase in the number of closed or curtailed seedling nurseries.
"Industrial landowners (TIMOs and REITs) are not helping the situation as most have lowered planting densities," said McCraw, who is a forester. "Some have lowered densities to 218 stems an acre. Many are now planting high priced, low density seedlings for the sawtimber market."
Noting that the pulp and paper industry in the South is alive and well, McCraw said the race is on for 10 in. timber between pulpwood and sawtimber interests. If 10 in. goes to sawmills, the sawtimber volume increases to more than 70% of pine volume, he said.
"We need to start planting trees now," McCraw said, pointing to his slides of aerial views of cutover lands being converted to crop farming. "We need to bring back the landowner assistant programs that existed in the nineties."
l Joe Andrews, former general manager of Richmond Plywood in Richmond, BC, spoke about managing the employee-owned cooperative just 10 minutes from downtown Vancouver.
The organization includes 278 working shareholders and more than 100 non-shareholder employees, and a four-member management team that's hired by a seven-member board of directors that's elected by the shareholders.
Major capital expenditures and other major decisions are taken to shareholders for a vote by a show of hands.
Every new hire starts at the spreaders, learning veneer grades, sheet quality, spread rates, and general plant knowledge, Andrews said, and upon satisfactory job evaluation and medical report, mill employees become eligible to purchase shares from retiring shareholders.
Each shareholder earns the same rate of pay with a small premium for supervisors.
"There's a strong (profit) incentive for shareholder-employees to produce the best products possible in the most efficient way possible," Andrews said. PW
Look for continued coverage of PELICE 2014 in the next issue of Panel World magazine.