Pre-and-post COVID mill project developments and producer company growth and diversification highlight talks.
Everything fell into place at the eighth Panel & Engineered Lumber International Conference & Expo (PELICE) held March 31 to April 1 at the Omni Hotel at CNN Center.
"Two things combined to make this the best PELICE in some years," comments Rich Donnell, co-chairman of PELICE and editor-in-chief of Panel World. "One was the tremendous wood products markets we've been experiencing for months on end, and the second thing was simply that people and companies were more than ready to get out of the house so to speak and meet in-person, many of them doing so for the first time since the previous PELICE in 2020."
Donnell's opening remarks on the first morning touched on PELICE 2020, which was held just as the pandemic rolled in like a tsunami. As a result a significant number of registrants, and a few exhibitors, decided not attend the 2020 conference, which was one of the last conferences, if not the last, held for many, many months.
They returned this time, as PELICE recorded 450 participants on-site (including wood products producer personnel, exhibitor personnel, and representatives from investor, consulting, academia and a range of other sectors associated with the structural and non-structural wood products industries), which was 60% more attendance than in 2020.
"The positive side of the story since 2020 is that wood products producers have fared pretty well in the profit category," Donnell noted in his introductory remarks. "Is that the greatest understatement ever made? Housing demand, record prices, supply chain disruptions. I suspect many of the equipment companies in this room have also done pretty well, as we keep hearing from them the terms 'backlog' and 'booked out.'"
Executives, plant managers, project managers, engineers, human resources and other personnel from 30 wood products producer companies took in presentations delivered by 55 industry personnel on a range of topics including Legal Matters, Global Technologies & Trends, Quality Control, Plywood & Veneer-Based Technologies, Resins/Waxes/Coatings, Air Treatment, Fire Prevention, Process Optimization, Products/Research/ Labor and Energy Applications.
They also enjoyed combing the aisles of the Grand Ballroom North where 100 exhibitors set up shop. All of the exhibitors were Gold, Silver or Bronze sponsors and participated in the sponsorship of the numerous food functions that complement PELICE.
Eight keynote talks during the course of PELICE drew the largest crowds, and none were larger than for the opening morning's session, which was standing room only. The opening keynotes featured Scott Poole, president and COO of RoyOMartin; Jake Elston, senior vice president of operations at Roseburg Forest Products; and Wedig Graf Grote, chief operating officer at Swiss Krono USA.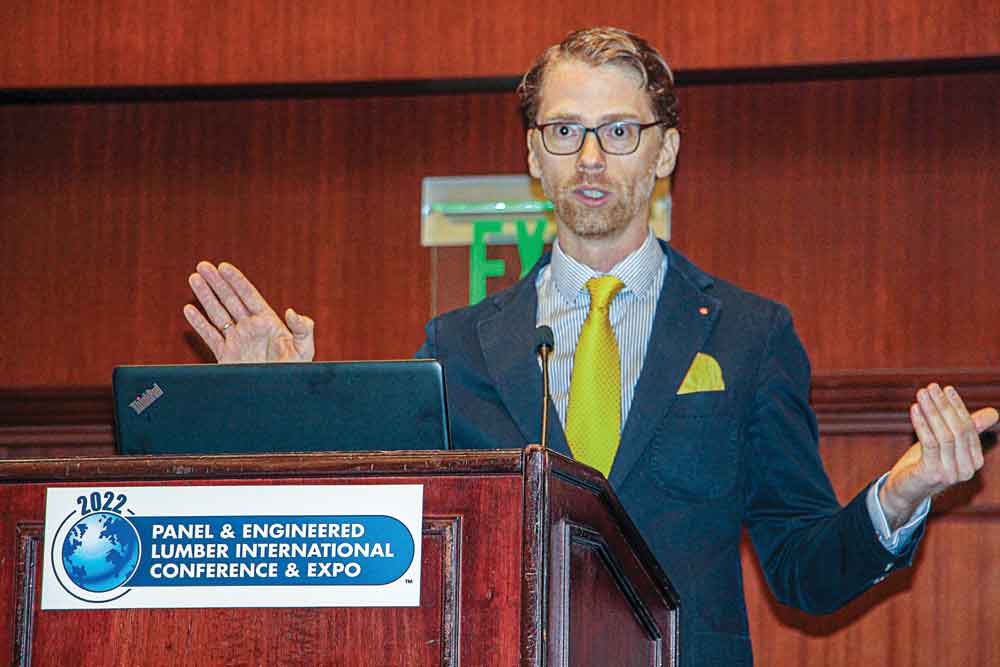 Swiss Krono's Wedig Graf Grote: Barnwell was an intercultural exercise.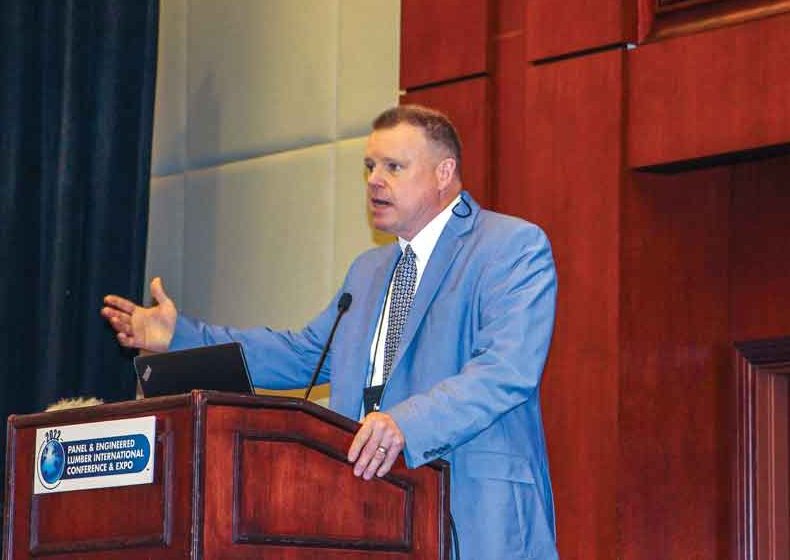 Roseburg's Jake Elston: traditional values, new horizons
PELICE has always been about projects in the works and projects just completed, and the three morning keynoters fit the bill.
After addressing the company's impressive history, Poole, himself educated as a forester, touched on RoyOMartin's timberland activities, including ownership of 550,000 acres, which continue to show substantial tonnage growth thanks to genetic seedlings and aggressive site preparation. The company's forestry activities have maintained an outstanding safety record, and the company's two OSB mills and plywood mill have followed suit in the past 20 years due to an increased focus on safety implementation.
Poole addressed the ongoing construction of the company's second OSB mill at the site in Corrigan, Texas. "Why Texas again?" Poole asked. He pointed to numerous strengths including labor, timberland, roads, rail and power infrastructure, and certainly markets. Texas continues to be a housing boom, and Houston and Dallas-Fort Worth led the nation, by far, in single-family permits during the pandemic year. Existing and new home prices continue to rise and home ownership rate has bounced back though there remains tremendous potential in the conversion of young renters to homeowners.
Poole, who is the highest-ranking non-family member in the history of the Martin family business, also addressed the leadership transition in the company since the death of Chairman Jonathan Martin in September 2019. He said the closeness of the surviving leadership, their passion for the company and the industry and their continued focus on the direction and operations of the company have contributed to a positive changeover, while Martin's own remarkable spirit remains embedded in everyone at RoyOMartin.
ROSEBURG
Jake Elston, who came to Oregonbased Roseburg in 2019 as senior vice president of operations, following leadership and management positions at Arauco, Flakeboard, Weyerhaeuser and Willamette, addressed Roseburg's growth and product diversification, especially into the Eastern side of the U.S. and Canada.
Elston noted that some things have not changed about Roseburg, such as its privately held "handshake integrity," its emphasis on timberland ownership and a substantial manufacturing portfolio.
Elston presented a neat series of maps that showed Roseburg's expansion from an exclusive Western-based business to the addition of two composite panel plants in the Southeast in 2012 along with an Atlanta sales office (as well as a composites panel plant in Montana and the addition of a MDF plant in Oregon). As of 2017 the company, which moved headquarters from Dillard to Springfield, Ore., began purchasing timberlands in North Carolina and Virginia, now at 200,000 acres, complementing the 400,000 plus acres it owns in the West; and established an Eastern Regional Office in Georgia. In 2018 Roseburg added an MDF facility in Pembroke, Ontario. In 2019 it constructed the Chester (LVL) engineered wood facility and also added an MDF plant in El Dorado, Ark. And in 2021 it announced the construction of the Roanoke Valley Lumber sawmill in Weldon, NC.
The company's product sales pie has altered significantly in the past 10 years. Whereas plywood and particleboard accounted for 63% of sales in 2012, today those segments combined represent 39%, while engineered wood has increased from 8% to 17% and MDF has come from zero to 13%, in addition to similar sales numbers in lumber, logs and chips. Roseburg has experienced 260% growth in sales in the past 10 years and 50% growth in production, according to Elston.
Overall, in addition to the new sawmill, the company is implementing modernizations of plywood and composites facilities and a major investment in hardwood plywood technology and production.
Underlying it all, Elston noted, is the evolving culture of the company, which emphasizes continuous improvement, decision-making empowerment and open communications.
SWISS KRONO
Wedig Graf Grote, chief operating officer of Swiss Krono USA, spoke about establishing an integrated European MDF mill in the Southeast U.S., at Barnwell, SC, to complement the multiple laminate lines that were already in operation there.
Graf Grote has worked with the parent company since college internship in Russia and Germany and since 2008 as an employee, including running one plant in the Ukraine. He came to Barnwell in 2014.
Graf Grote said Swiss Krono Group, which was founded and is owned by a portion of the Kaindl family, operates 10 vertically integration production sites in eight countries and nearly 390,000 m2 of Swiss Krono laminate flooring is installed every day around the globe (or 55 soccer fields worth). It also manufactures OSB and particleboard.
Swiss Krono USA actually began in 1999 but plans for an integrated factory were put on hold after 9-11. Flooring production with two lamination and two profiling lines started in 2005, and more lamination, flooring and also paper treating production came on during the ensuing years, leading to the new, 280,000 m3 MDF plant in 2019. Barnwell is now a vertically integrated production site, from receiving logs to shipping boxes of laminate flooring.
Graf Grote talked about traditional European integrated production site concepts and U.S. stand-alone models for plant operations layout, and said Barnwell merges these approaches, including a large, crane-driven log yard.
One big difference was that Swiss Krono has started all of its other plants with the primary press production line and added value-added capabilities later. Barnwell did just the reverse, starting with the flooring plant.
He delved into the intercultural challenges of the project, including multiple cultures and languages, and different perceptions and assumptions of what is "normal" and "standard" as well as tolerances for job performance.
"People want to do a good job, but at the same time are hesitant to ask for clarification to overcome a language barrier," Graf Grote said, adding it's essential to prepare everyone for these cultural differences with relocation training. "It takes time and effort to reach mutual understanding and build trust."
Given the "complexity" of his name, Graf Grote was asked if he has adopted a more manageable name on the job. His response, which drew roaring laughter from the audience: "Bubba."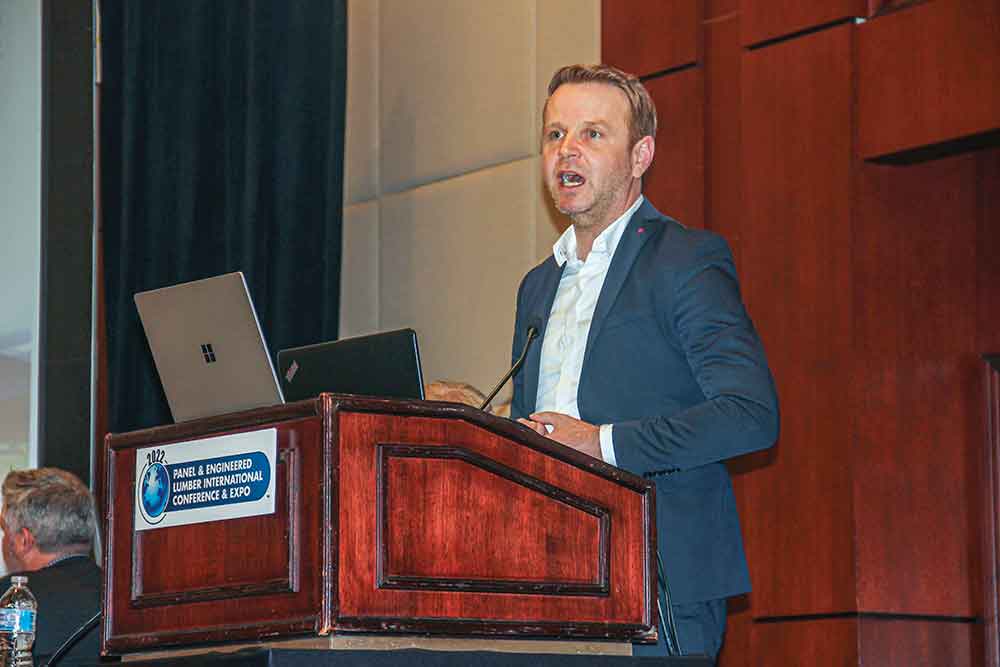 Egger's Eder: market development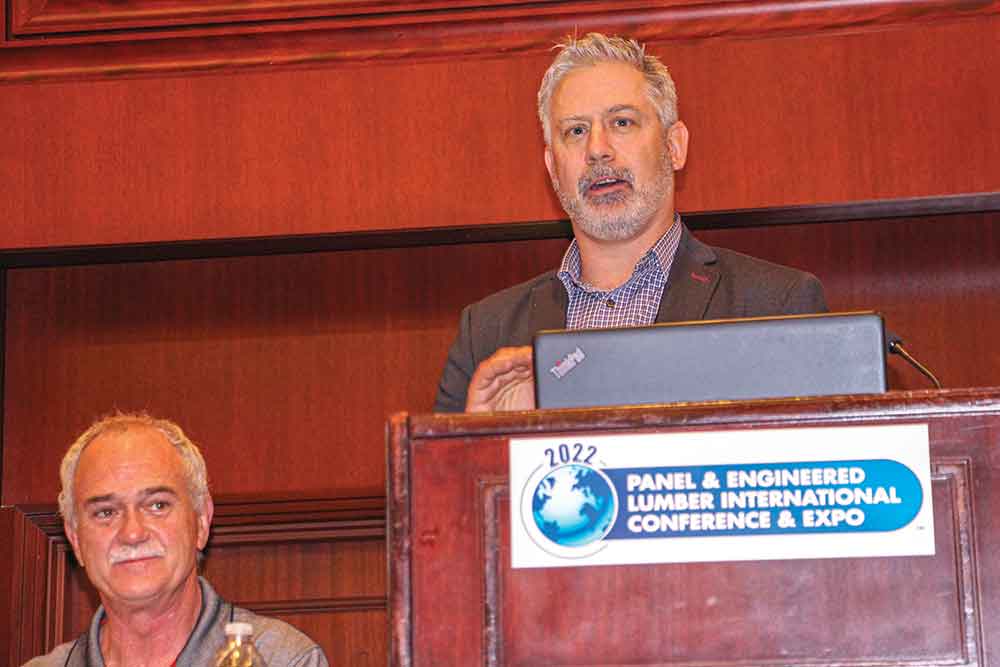 Coastland's Pauze: employees in mind
EGGER
EGGER has also entered the composites panel and laminate business in North America, which was addressed by Johannes Eder, head of sales North America. Eder noted that the company was founded in Austria in 1961 and remains family-owned and operates 20 plants on three continents.
The new particleboard & thermally fused laminate (TFL) plant in Lexington is Egger's first North America manufacturing site. It began operation in September 2020 with an annual production capacity of 650,000 m3 and is headed toward three lamination lines.
Egger products range from TFL, CPL, HPL, edge banding and matt and gloss lacquered boards, and matching thermofoils and mouldings, with emphasis now on establishing and meeting North America market trends. The company continues to emphasize TFL, instead of alternatives like plywood and wood veneers, Eder said, as customers save time and resources with material and labor cost savings while achieving the same or better quality and performance.
TFL is easy to process on typical panel processing equipment, and as a prefabricated board eliminates the need for cabinet and furniture makers, and fabricators to install laminating lines, he said, while the finished look from surface to edge appeals to architects and designers.
Eder said the TFL market in North America is trending upward with shipments and utilization approaching half of capacity. Urbanization is a big factor with emphasis on smaller apartments, condos and townhouses, which means smaller, design-oriented kitchens and frameless cabinetry.
COASTLAND
Doug Pauze, president of Coastland Wood Industries, gave an outstanding talk on how the company came through COVID as a stronger, more determined company bound for the future.
The company focuses on manufacturing Coastal Douglas fir veneer with its superior strength characteristics for the plywood and LVL industry. At its Nanaimo facility on the East Coast of Vancouver Island, Coastland operates three lathe lines, and from there the green veneer is transported by barge to Vancouver for drying in four dryers at Coastland's facility at Annacis.
Pauze touched on the company's history, including its founding in 1988 by Don McKay and later infusion from Peter Shields when the company's manufacturing capabilities began to materialize, including small block lathe peeling down to 5 in. diameter and the purchase of the Cantree Plywood mill and conversion of it to exclusively drying operations.
The recession revealed some weaknesses in the company and new president Hans deVisser initiated an overhaul including the identification of specific core values that were finalized in late 2010: People, Quality, Innovation, Profitability.
"Our core values have become firmly engrained in our DNA," Pauze said. "For me personally, it was one of the main reasons why I became a part of Coastland as it described who I was and how I conducted myself in my work life and personal life." Pauze jointed Coastland in 2011 as maintenance and production manager after spending numerous years with West Fraser. He became general manager of the Nanaimo veneer mill in 2013, vice president of operations in 2017 and became president in 2020.
Pauze said since 2011 Coastland has been building momentum in its operations through innovation, creativity and an unrelenting pursuit of improvements. "We began to experience a period of nonstop innovation and advancement in efficiencies throughout our organization."
Indeed Coastland has been busy— from finding higher value products out of its core processing, to reconfiguring its veneer quality program and researching equipment manufacturers across the globe, to the installation of a third lathe system (Meinan), a fourth dryer rebuilt with USNR, new air treatment system, new strapping systems, new log deck, new wasterwater treatment, more lathe and dryer refurbishment, a new corporate office in Nanaimo, and the development of its own barge facility in Nanaimo after having to rely on leasing from a third party.
The onslaught of the pandemic in spring 2020 became a defining moment for Coastland, as it shut down operations and, "using logic and common sense," developed protocols that would allow employees to come to work and be comfortable that they were in a safe environment, while compensating employees during the downtime.
Coastal gradually brought back employees and slowly increased operations and after three weeks began peeling veneer again.
"Why is this story different than anything else other companies were doing during this time?" Pauze asked. "It wasn't, but the decision to stop operations and compensate our employees immediately was done before it was mandated. We didn't just talk about our core values, we walked them with our employees and managed to strengthen the culture. Our employees have stuck by Coastland through the market struggles over the years and it was imperative that we stuck by them through these times. This has strengthened the relationship with our employees and proved to them that we have their best interests over the profitability of the company."
Coastland thus maintained operations, which enabled it to focus on additional upgrades, including major work at the lathes, the installation of an electric log bundle lift that can pull a full bundle from the water every three minutes, and the upcoming installation of a fifth dryer.
"The never-ending quest towards efficiency in our operations is going to continue to drive us," Pauze said. "The enthusiasm from our employees towards everything we stick our fingers into is contagious and drives us even more."
ECONOMICS
Award-winning economist Roger Tutterow from Coles College of Business, Kennesaw State University, delivered a presentation that noted the impacts of the pandemic on leading economic indicators.
For the forest products and construction industries, the biggest issues are inflation and labor leading to higher construction costs, and it's uncertainty along the supply chain that's a big contributor to higher prices. Some supply chain disruptions in combination with hoarder behavior, contributing to higher prices, have eased in recent months, though the energy component has soared, Tutterow said.
Still, there are good housing and construction demand dynamics with the inventory of new and existing housing currently at generational lows, Tutterow said.
Tutterow noted that the pandemic recession of 2020 was the worst in U.S. history but also the shortest, and how we're all living in a time of unprecedented economic dynamics during the world's first truly global pandemic of the modern digital era.
Amongst all the economic numbers and graphs, Tutterow made an important insight: While mandates and shutdowns always grab the headlines, he said, 10 years from now we're more likely to be talking about the impact of "voluntary" changes in our lives: the great resignation that was real, lower workforce participation, more work from home and other societal changes that will affect how the forest products industry does business.
Tutterow also revealed an impressive graph of the Federal Reserve Securities Held Outright, which topped $8 trillion toward the end of 2021. The Fed generally buys and sells securities as it desires to increase or reduce the flow of money and credit. Securites held outright basically doubled since the onslaught of the pandemic in spring 2020.
Jose Gonzalez, director at AFRY Management Consulting, and Philipp Sauter, principal, prepared a report on "Wood Processing Post COVID-19," with Gonzalez actually making the presentation.
AFRY was formed in 2019 from the merger of AF and Pöyry and now includes six divisions that offer numerous services in multiple industries, including wood-based panel and engineered wood.
Gonzalez addressed various parameters and their anticipated influence on the wood processing industry. For example, high inflation has been driving construction investments and some construction cooling down is expected following the Fed's increase of fund rates, he said. The furniture market was extraordinarily high in 2021, but demand is expected to return to average levels. The import bans for Russia and Belarus to Europe as well as stopped production in Ukraine will result in a significant deficit of some wood products in Europe, and this could have a trickle down effect on North America.
Specifically regarding the U.S., Gonzalez said they anticipate a decrease in consumption and price levels for wood products, especially OSB, but with only moderate decline in the near future.
Also pretty much across the board with particleboard, MDF and plywood, the industry has experienced record sales levels, but a cooling effect is expected from the second half of 2022 moving forward.
Gonzalez noted that OSB and plywood production capacity in North America is still dominated by NA companies, but in composite panels more than 40% of capacity is from Latin America and European companies.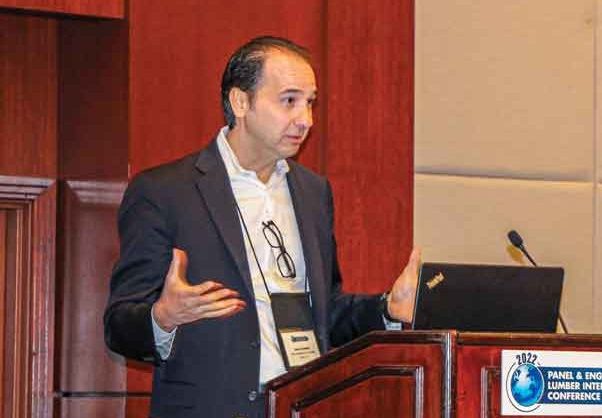 AFRY's Gonzalez: Markets will soften.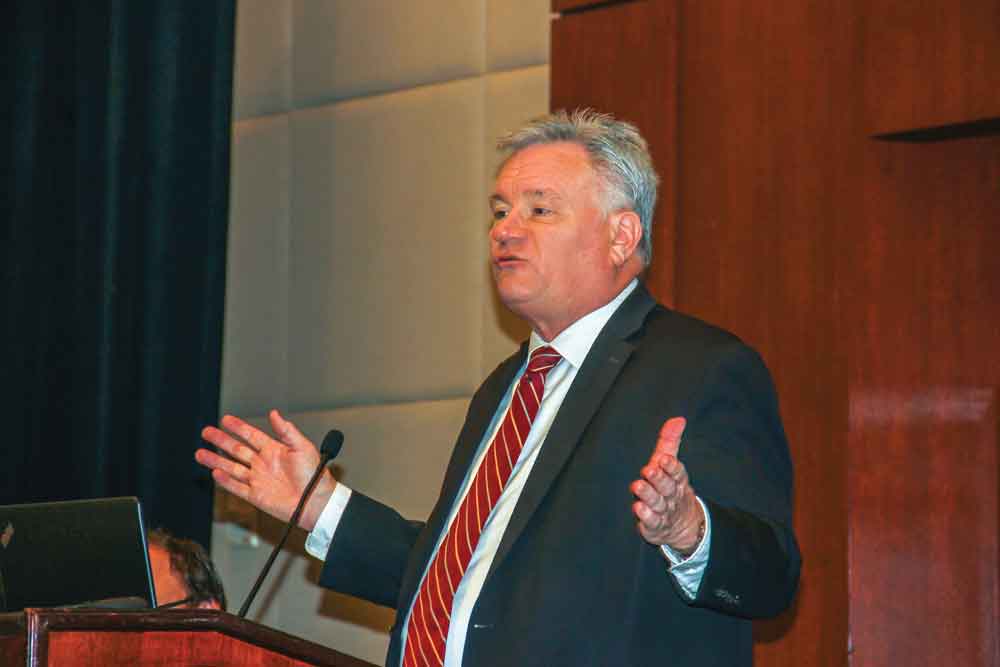 Tutterow: dynamic factors galore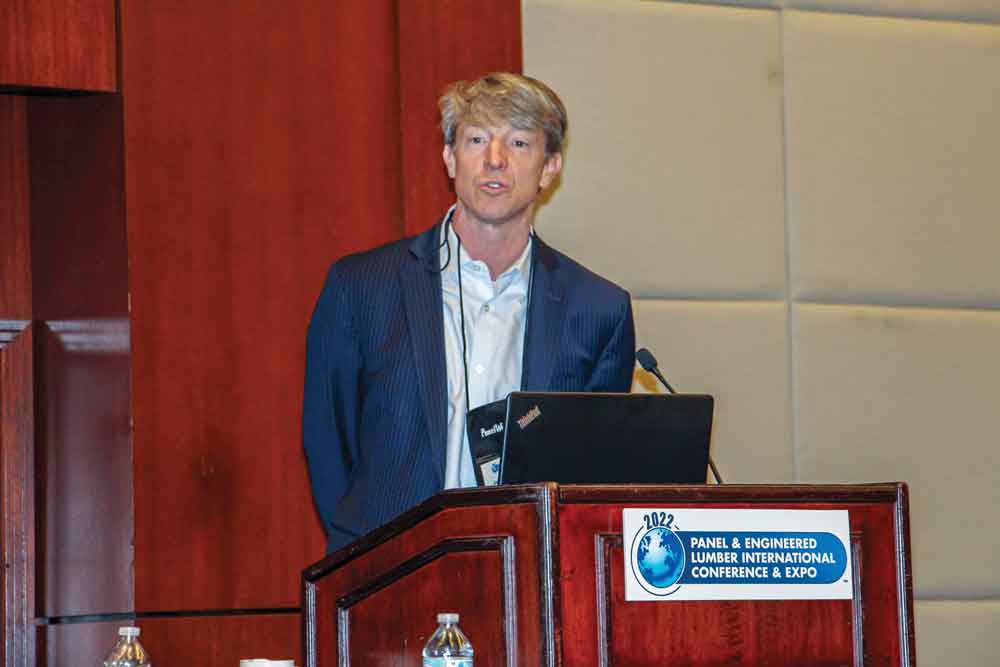 AWC's Morrill: setting climate agenda
"The North American wood products market is dynamic and very interesting for investors, including from other regions," Gonzalez said.
Jackson Morrill, president and CEO of American Wood Council, spoke about that group's Climate/Carbon Initiative, which seeks to expand the use of wood through mass timber construction and ensure that the benefits of utilizing sustainable wood products are encoded in any carbon reduction or climate initiatives that may be developed by a variety of government agencies and institutions at all levels.
Morrill noted that as the market and much of society moves past climate change denial, the AWC wants to make sure wood's positive carbon characteristics are included as part of the climate change solution.
Morrill focused on good "data" as the foundation for carbon advocacy, "policy" for setting the rules of the game and a level playing field, "demonstration projects" for building taller with wood through the public sector and "value chain coordination."
"Take a lead role in coordinating the entire forest sector to leverage messaging and advocacy on climate-related policies, ensuring each organization has clear roles and plays to its relative strengths," Morrill said.
He pointed to AWC's relationships with traditional wood groups such as APA, American Tree Farm System, Woodworks, American Forest & Paper Assn., but also stressed the importance of communication channels with groups such as the Environmental Defense Fund, The Nature Conservancy and the environmental sustainability investment group known as Ceres.
Getting involved early to make sure industry's views and the benefits of wood are included as various initiatives are developed is crucial, Morrill concluded.
March 14-15, 2024 | Atlanta, Georgia
PELICE is the Educational Event for the Worldwide Wood Products Industries Including Veneer, Plywood, OSB, MDF, Particleboard, Engineered Wood Products, Mass Timber and Value Added